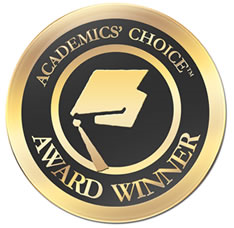 We're thrilled to have our efforts at bridging teachers and tech recognized by such a distinguished organization.
Aptos, California (PRWEB) May 12, 2017
Academics' Choice today congratulates all winners of the Spring 2017 Academics' Choice Awards, a prestigious seal of educational quality, reserved only for the best mind-building media and toys. The fall winners include brain-boosting products from IXL Learning, Outskirts Press, Linguineo BVBA, Math for Love, Whistlefritz, SimplyFun, Oceanhouse Media, WeWantToKnow, HeidiSongs, PlayMada Games, TabSquared, PlayMonster, Stages Learning, Cricket Media, and more! The full list of winners is posted online at http://www.academicschoice.com/2017.
The Academics' Choice Advisory Board consists of leading thinkers and graduates from Princeton, Harvard, George Washington University, and other reputable educational institutions. Product-appropriate volunteer reviewers, combined with the brainpower of the Board, determine the coveted winners. Entries are judged by category (i.e. mobile app, toy, book, website, magazine, etc.), subject area, and grade level, and evaluated based on standardized criteria rooted in constructivist learning theory.
"The Collisions team is honored to receive the Academics' Choice Mind Spring Award for our digital chemistry game! We believe that true, deep scientific understanding and delight flourish when students are free to explore, make mistakes, and question the most fundamental principles of the world around them. This distinction means even more to us because it was given by academics, parents, teachers, homeschoolers, and children." - Nadav Kadar, Founder and CEO of PlayMada Games
"It is a privilege to win the Academics' Choice Smart Media Award. At Linguineo, we believe that technology in the classroom is most effective when it adds to the unique, professional talent of language teachers. Great technology doesn't replace teachers, it empowers them and it empowers their students. We're thrilled to have our efforts at bridging teachers and tech recognized by such a distinguished organization." - Steffen Luypaert, Founder of Linguineo BVBA
"We are thrilled that Tiny Polka Dot has been awarded the Spring 2017 Academics' Choice Award. It is an honor to win the award and we are grateful that the independent review panel has recognized the importance of introducing foundational math skills through play in early childhood." - Dan Finkel, Founder of Math for Love
"I've always leaned toward purchasing products of educational value for my children. I've felt especially confident choosing items with award seals, as proof of their tested quality. To have won such a distinguished and respected honor as the Academics' Choice Award for my first published book will enable me to get "Gramma Darling" noticed in the literary community. Thank you for seeing the worth of my story, and for making dreams come true." - Lissa Schroeder, author and owner of Brainstorm Home School Supply, Fairbanks, Alaska
Many of the products that are evaluated by the Academics' Choice Awards team are donated to a variety of worthy charities including the Kids In Need Foundation and the Toys for Tots Foundation.
About Academics' Choice:
Academics' Choice helps consumers find exceptional brain-boosting material. Academics' Choice is the only international awards program designed to bring increased recognition to publishers, manufacturers, independent authors and developers that aim to stimulate cognitive development. A volunteer panel of product-appropriate judges, including parents, educators, scientists, artists, doctors, nurses, librarians, students and children, evaluate submissions based on educational benefits such as higher-order thinking skills, character building, creative play, durability and originality. Only the genuine "mind-builders" are recognized with the coveted Academics' Choice Awards.
###