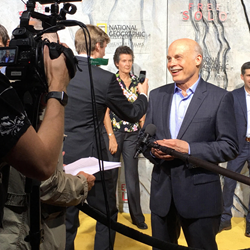 "Bob and Claudia are two of the best in the documentary world. 'RBG' and 'Free Solo' have enjoyed huge box office success, critical raves and fantastic buzz. So I can't say it's a surprise. Still, we're all very excited for them!" - Andrea Swift, Chair of NYFA's Documentary Filmmaking department
NEW YORK (PRWEB) December 20, 2018
As Hollywood and the wider film community prepare for this year's upcoming awards season, the New York Film Academy and its Documentary Department congratulate NYFA Documentary Filmmaking instructors Bob Eisenhardt and Claudia Raschke for the inclusion of "Free Solo" and "RBG" on The Academy Awards Documentary Feature Shortlist.
Released late Monday, the Oscar Documentary Shortlist includes fifteen feature-length documentaries in total, and had an incredible amount of competition this year, with 166 films qualified in the category. Most notably, the shortlist features "Free Solo", edited by Eisenhardt and "RBG", with Raschke as Director of Photography.
National Geographic's critically-acclaimed "Free Solo" centers around rock climber Alex Honnold and his attempt to climb El Capitan, the vertical rock formation in Yosemite National Park, without ropes. This marks an endeavor not yet attempted by anyone else, and Honnold is the only person to have ever accomplished the incredibly dangerous feat.
"RBG" premiered at this year's Sundance Film Festival, and tells the story of Supreme Court Justice and millennial icon Ruth Bader Ginsberg (aka The Notorious RBG), a Brooklyn-born Justice appointed by Bill Clinton in 1992, who would become only the second female to serve at the highest federal court in the United States.
The inclusion of Eisenhardt and Raschke's projects on this year's shortlist marks a continued recognition for NYFA's commitment to excellence in documentary filmmaking. Eisenhardt is an Academy Award nominee, three-time Emmy winner, and recipient of the coveted "Eddie" aka American Cinema Editors Award. Raschke's previous work has been nominated for Academy Awards four times, and has won a Peabody, a DuPont and a National Board of Review Award, among others.
"Bob and Claudia are two of the best in the doc world," applauds Andrea Swift, Chair of NYFA's Documentary Filmmaking department. "'RBG' and 'Free Solo' have enjoyed huge box office success, critical raves and fantastic buzz. So I can't say it's a surprise. Still, we're all very excited for them!"
The New York Film Academy and its documentary department takes pride in its ongoing dedication to success, and as a top documentary filmmaking school, recognizes the importance of a diverse faculty with extensive industry experience. Just last year, Heroin(e), a Netflix-produced documentary edited by NYFA documentary instructor Kristen Nutile, was nominated for an Academy Award and won
the Emmy for Best Short Documentary, and prolific documentary filmmaker and NYFA instructor Maxine Trump published her book, The Documentary Filmmaker's Roadmap: A Practical Guide to Planning, Production and Distribution. In addition, NYFA alumni have found success and acclaim in the documentary filmmaking world, such as alum Raphaela Neihausen who was nominated for an Academy Award for Best Documentary Short in 2017 for Joe's Violin.
These prestigious accomplishments represent incredible displays of mastery and expertise from within the NYFA faculty community. "No Documentary film school in the world has a better faculty. Even Oscar is a fan," added Andrea Swift.
The New York Film Academy congratulates instructors Bob Eisenhardt and Claudia Raschke on the success and recognition of their films, and wishes them the best of luck as the awards season continues!
Press Inquiries Contact: helen(dot)kanti(at)nyfa(dot)edu
About New York Film Academy
The New York Film Academy (NYFA) is a leading visual and performing arts school that offers courses across 15 areas of study in New York City, Los Angeles, South Beach/Miami, Gold Coast (Australia), Florence (Italy), and more. Thousands of aspiring artists come to study at the New York Film Academy each year from over 120 countries. For more information, please visit nyfa.edu.