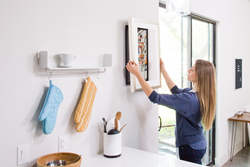 "With Acanvas, interior design and technology come together to bring millions of works of art to empty walls everywhere," said Dan Lee, Acanvas CEO and co-founder.
Santa Clara, CA (PRWEB) May 12, 2016
Emerging startup Acanvas today announced the Acanvas display and art platform in order to enable art lovers to discover, access and hang artwork in the home. Acanvas began as a research project within the LG Silicon Valley Lab (SVL) located in Santa Clara, and has branched out as an independent company in order to fully focus on the Acanvas art platform. Acanvas has raised $700,000 in seed investment.
The hardware consists of a 23-inch ultra thin, Wi-Fi connected high-definition display that features an innovative charging system for its onboard battery. The motorized retractable cord and portable charging dock allow the display to be mounted on any wall with minimal installation. Acanvas is itself modular, and can be personalized with custom frames in order to match varying home décor. The platform includes the Acanvas app for iOS and Android that features millions of classic and contemporary art pieces within curated Art Stations. Once hung on the wall, Acanvas can act independently, showcasing curated artwork and fine photography and charging itself to maintain a clean look.
Acanvas is now available for pre-order on Kickstarter, where backers can pre-order it for as low as $299 which includes access to the Acanvas app, and millions of artworks for free for the first year. Acanvas is available in basic black, along with two different matte frame styles for customization. Acanvas is expected to ship in the 4th quarter of 2016.
"With Acanvas, interior design and technology come together to bring millions of works of art to empty walls everywhere," said Dan Lee, Acanvas CEO and co-founder. "Our self-charging system makes our display as easy to hang as any traditionally framed print or painting."
The Acanvas platform is supported by a partnership with Fine Art America. After downloading the Acanvas app, users can select from a wealth of Art Stations and stream a continuous flow of art ranging from classic to contemporary. Users can also browse for specific art to add to their personal libraries within the Acanvas app. To further customize their home or office, users may also hang and showcase personal photos from anywhere, either within the home or remotely.
"Acanvas allows us to further our mission of connecting people to the art and artists they love," said Sean Broihier, CEO of Fine Art America. "It's the ideal marriage of art and tech."
All assets can be found https://brandfolder.com/acanvas.
About Acanvas
Based in Santa Clara, CA., Acanvas set out in 2016 to further the mission of making art as accessible as music or movies and art displays as easy to hang as traditional framed pieces of art. Co-founded and led by product experts Dan Lee, Peter Kim and Junhee Yeo, Acanvas has a partnership with art content provider Fine Art America and offers millions of curated classic and contemporary pieces of art. Acanvas was born within the walls of the LG Silicon Valley Lab in 2014. http://www.acanvas.com
About LG Electronics USA
LG Electronics USA, Inc., based in Englewood Cliffs, N.J., is the North American subsidiary of LG Electronics, Inc., a $56 billion global force and technology leader in consumer electronics, home appliances and mobile communications. LG Electronics, a proud 2015 ENERGY STAR Partner of the Year, sells a range of stylish and innovative home entertainment products, mobile phones, home appliances, commercial displays, air conditioning systems and solar energy solutions in the United States, all under LG's "Life's Good" marketing theme. http://www.lg.com.
About Fine Art America
FineArtAmerica.com has revolutionized the way that artwork, home decor, and apparel are bought and sold around the world. With a few clicks, artists and photographers can upload their images to FineArtAmerica.com, set their prices, and instantly sell prints, and more to a global audience of online buyers. Fine Art America fulfills each order on behalf of the artists – and passes the profits directly back to the artist. http://www.fineartamerica.com.