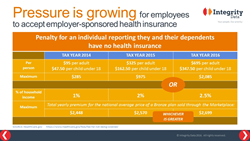 Our goal for Tax Year 2016 is to get businesses from being ACA-reactive to solid steps for being ACA-proactive.
Lincoln, Ill. (PRWEB) April 18, 2016
As the reality of rising IRS penalties for no health insurance hits Americans on Tax Day 2016, Integrity Data, a firm that develops business software for payroll and human resources records, is issuing a tip sheet to help companies manage the related Affordable Care Act realities surfacing for U.S. employers.
"In Tax Year 2016, the 'shared responsibility' idea written into the health law takes on costlier meaning for both for the American people and for the businesses that must comply with it," says Patrick Doolin, CEO of Integrity Data, referring to effects of the no-coverage penalty under the ACA individual mandate nearly doubling for 1040 filings in 2017.
"A worker who just paid $325 for not having insurance is going to see his or her self-only penalty jumping to $695 for Tax Day 2017, and say, 'I can't keep doing this. I need to get coverage.' With this kind of pressure mounting for U.S. workers to get health insurance – and their employer's offer being one option for coverage, our job is to help businesses get at their payroll and benefits data to know exactly when to make an ACA-compliant offer to an employee."
The tip sheet, titled ACA Checklist for Tax Year 2016 Reporting, is a detailed infographic that addresses the internal reporting that businesses required to comply with the Affordable Care Act must do on a monthly basis:

To manage their own risk of coverage penalties
To prepare for the year-end health insurance forms they must furnish to employees and then file with the IRS.
The tip sheet is a clickable download with links to blog posts about compliance requirements and best practices.
"For Tax Year 2015, many employers were scrambling to push out year-end IRS forms without having methodically prepared all along for the compliance, or noncompliance, measures they were reporting on those forms," Doolin said. "Our goal for Tax Year 2016 is to get businesses from being ACA-reactive to solid steps for being ACA-proactive."
The ACA Checklist for Tax Year 2016 Reporting is a free download at http://www.integrity-data.com/aca-balance/.
ABOUT INTEGRITY DATA
Integrity Data is a longstanding leader in development of software that improves business processes centered on payroll and human resources data. Headquartered in Lincoln, Ill., and founded in 1996, Integrity Data serves over 8,000 organizations worldwide. Integrity Data's leadership in technology for Affordable Care Act reporting compliance includes being the first software company to meet the IRS testing requirements for electronic filing of ACA returns by employers.
Corporate Headquarters
Integrity Data
125 N. Kickapoo
Lincoln, IL 62656
http://www.integrity-data.com
info(at)integrity-data(dot)com
888.786.6162