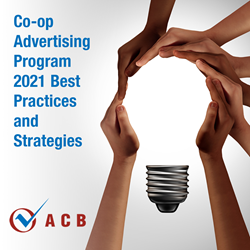 Manufacturers continue to implement new strategies to encourage the continuation of effective Co-op program participation throughout their dealer channels
NEW YORK (PRWEB) March 18, 2021
Co-op Advertising programs have always been a win-win for both the manufacturers and the channel partners supporting these brands by sharing in the advertising and marketing expenses and strategies. Heading into the second quarter of 2021, manufacturers continue to extend their 2020 shared Co-op advertising strategies to help combat disruptions in the marketplace due to the pandemic. Strategies remain focused on maintaining strong relationships with dealer and retailer channels as they prepare for the anticipated economic recovery later this year.
Co-op advertising and dealer channel strategies for 2021 include extending deadlines for claim submissions and program dates by an additional 30 or more days. Manufacturers will continue to be more flexible in how they allow dealers to spend their Co-op ad budgets. Prior Approvals for advertising to help ensure effective Co-op dollar spend will still be emphasized, but overall policy requirements will be eased.
"Manufacturers continue to implement new strategies to encourage the continuation of effective Co-op program participation throughout their dealer channels. Last year, we saw clients help their channel partners through program extension deadlines and increased reimbursement rates. This year, we are seeing similar strategies which continue to benefit both the brand and their dealer channels as we head into economic recovery later this year," John Portelli, Senior Vice President - The Advertising Checking Bureau, Inc.
With an economic recovery not expected until mid-to late-2021, a continued Co-op advertising investment to drive consumer traffic, communicate with consumers and maintain brand consideration is vital. In consideration of the accelerated changes in consumer media consumption habits, digital media has become more valuable than ever. During the pandemic, average time spent by consumers online increased by 96%. The shift towards encouraging incremental digital media Co-op tactics is a growing emphasis by manufacturers. Select brands now require a specific proportion of Co-op dollars be spent on digital media, whereas others have increased the reimbursement share to encourage digital campaigns.
As marketers focus on addressing their dealers' and channel partners' needs as changes in both the economy and consumer behavior continue, they must continue to support local methods that optimize Co-op advertising plans and shared marketing expenses. For additional tactics and strategies being implemented in the promotional marketplace, a complete copy of ACB's "2021 Co-op Advertising Trends Best Practices" can be downloaded here.
ACB is a fully based U.S. operation addressing the Marketing Services needs of brands, manufacturers, service providers and their advertising agencies. For more information on ACB services for Rebates, Sales Incentive Programs, Co-op Advertising and Compliance Program Administration, please visit acbcoop.com or contact us at sales@acbcoop.com.
ACB is headquartered in New York City with client service offices in Memphis, TN and Tempe, AZ. For additional information, Contact ACB.