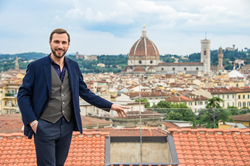 Dr. Petrocelli has the right characteristics to be a successful protagonist of this new phase of growth for our Academy.
CREMONA, Italy (PRWEB) November 29, 2020
The Board of Directors of the Walter Stauffer Foundation of Cremona, chaired by Dr. Paolo Salvelli, has named Paolo Petrocelli as General Director of the Walter Stauffer Academy with a three-year appointment, starting from 1st December 2020.
Founded in 1985, the Stauffer Academy is a private institution recognized internationally for its excellence as an international point of reference for higher music education for strings.
With the appointment of Petrocelli, the Stauffer Foundation is ready to start a new phase of development and growth.
After four years of major restoration work, Palazzo Stradiotti, an iconic historical building in the heart of Cremona, purchased by the Foundation in 2015, is ready to host the new permanent headquarters of the Academy, starting from 2021.
"The Stauffer Foundation celebrates its 50th anniversary this year and the Stauffer Academy, one of its pillar projects, celebrates 35 years of operations, during which we have proudly achieved excellent results and meaningful accomplishments, especially thanks to the invaluable support and guidance of our prestigious artistic faculty, joined by: Salvatore Accardo, Bruno Giuranna, Rocco Filippini, Franco Petracchi, Antonio Meneses and Quartetto di Cremona (Cristiano Gualco, Paolo Andreoli, Simone Gramaglia, Giovanni Scaglione)" said President Salvelli.
"On the one hand, we decided to have new headquarters for our Foundation and Academy, a special location where all educational programs will take place; on the other hand, we wanted to bring on board a highly qualified professional figure to give a new impulse, develop and expand all our activities in the higher music education field.
The Board of Directors of the Foundation believes that Dr. Petrocelli has the right characteristics to be a successful protagonist of this new phase of growth for our Academy: a young professional, leading representative of the new generation of cultural managers, who have already gained a very extensive and qualified professional experience in Italy and abroad, with a solid international reputation and access to an extended global network in the music and cultural sector. To him we extend our warm welcome and best wishes for good work."
Born in Rome in 1984, the new Director General Paolo Petrocelli, is a manager and university professor with an extensive international experience in the cultural and performing arts management.
Former member of the Board of Directors of the Rome Opera House, Accademia Musicale Chigiana of Siena and Conservatory of Music of Venice, Advisor at Royal Opera House Muscat in Oman and Associate Director at IMG Artists, Petrocelli is currently serving as Assistant for International Development and External Director to the Superintendent of the Rome Opera House.
"I am grateful to the President and the members of the Board of Directors of Stauffer Foundation for the trust they placed in me", said Petrocelli. "I am honored to serve as Director General and I am looking forward to undertaking this new role and challenge with the utmost commitment. The objective is clear and well-focused: we want to strengthen and expand all activities of the Academy to make it more and more one of the most advanced international music centers for strings, a point of reference for artistic and cultural excellence. in Italy, in Europe, and in the world. With an ambitious multi-year development plan, we will create an innovative global platform dedicated to offering the finest higher music education programs to the most talented musicians, projecting into the future the great tradition of the Italian strings school and the extraordinary cultural heritage of the city of Cremona, the world lutherie capital."
As a music diplomacy ambassador, Petrocelli serves in institutional roles to forge bonds through music in Europe, the Middle East, Africa, Asia and the US. He is the Founder and President of EMMA for Peace (Euro-Mediterranean Music Academy for Peace), Co-Founder and Honorary President of the Italian Youth Association for UNESCO, Cultural and Diplomacy Officer for the Permanent Secretariat of the World Summit of Nobel Peace Laureates and Music Expert of the Italian National Commission for UNESCO.
Petrocelli holds a PhD in Cultural Economics, Marketing and Creativity from IULM University of Milan, an Executive MBA from SDA Bocconi School of Management of Milan, a Diploma in Violin Performance (MA) from the Conservatory of Santa Cecilia of Rome, a BA in Literature, Music and Entertainment from La Sapienza University of Rome, and a BA (Hons) Music from Middlesex University of London. He has been a Yale University Visiting Fellow and a Visiting Researcher at MIT Media Lab.
He is a Research Affiliate at the metaLAB (at) Harvard University and teaches cultural and music management at LUISS Business School, Business School del Sole24ore, John Cabot University, Accademia Teatro alla Scala of Milan.
Petrocelli is a Fellow of the Royal Society for Arts, an Official Member of Forbes Nonprofit Council, a Board Member of the Italian Association for Cultural Economics and a Member of the Italian Order of Journalists.