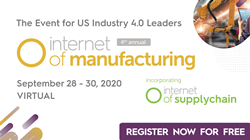 We look forward to sharing success stories from those working across Manufacturing, IT, R&D and Supply Chain.
BOSTON (PRWEB) August 12, 2020
Internet of Manufacturing, the premier conference series for industry 4.0 leaders, announces that its 2020 event goes virtual from September 28 - 30.
"While we continue to face unprecedented and uncertain times, Internet of Manufacturing (IoM) pivots to a safe, virtual learning and networking platform, allowing us to unite our Midwestern and Southern senior manufacturing audiences for the first time. We look forward to sharing success stories from those working across Manufacturing, IT, R&D and Supply Chain." Lucy Ashton, Managing Director, Internet of Business.
Over 300 manufacturing and supply chain leaders meet online over three days, to hear case-study-led content on Building the Business Case, Upskilling, Diversity & Inclusion, IT-OT Convergence, Edge to Cloud Data Management, Digital Twin Technologies, Additive, Blockchain, AI & Machine Learning, Product Design, Cybersecurity, Supply Chain and Customer Experience. Presenters and panelists from leading manufacturing companies, including Toyota, Raytheon, Rolls-Royce, John Deere, NOV, Boeing, GE Aviation, Coca-Cola, and more, share insights and lessons from their digital transformation journeys.
As last year's keynote presenter, Patrick Bass, CEO, thyssenkrupp North America, described, "You can use technology to leverage and to really change how you control your value stream. And to do that, whether you're a large or small manufacturer, you need to explore what others are doing. So, it's a great opportunity to come together and do that networking and have those discussions. And, as well, to see what new technologies may have arrived that you're not aware of".
Recognizing that it is now more important than ever to innovate and lead a digital workforce, Internet of Manufacturing 2020 delivers over 15 hours of online presentations, virtual discussions and interactive round table sessions, plus a virtual tour of a Future Factory Floor. Also, not to be missed, are social meetups, including the September edition of the IoM monthly virtual happy hour, plus pre-arranged 1-2-1 online meetings.
Incorporating the Internet of Supply Chain event, Internet of Manufacturing also welcomes technology leaders and executives across the sectors from the Assembly Line right down to Distribution
About Internet of Business
Internet of Business (IoB) was established in 2016 to fill a gap in vertical enterprise markets for peer-led learning and networking to understand and effectively leverage the technology advancing job roles, organizations and wider markets. IoB has successfully built an engaged community within leading US enterprise sectors, who rely on our live event and digital content to make technology buying decisions to forward strategy and operations with.