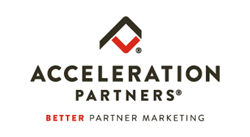 Our focus is to do whatever we can to help our clients and their affiliate partners through these challenging times. - Robert Glazer
NEEDHAM, Mass. (PRWEB) March 31, 2020
Acceleration Partners, the premier global partner marketing agency, has made new adjustments to their pricing and contract durations to meet the needs of clients looking for short-term support, including hourly or monthly affiliate program management assistance across every aspect of a client's program.
"These are extraordinary times for everyone. Individuals and businesses are having to quickly adapt to changing situations locally and globally," said Robert Glazer, founder and CEO of Acceleration Partners. "As an organization, we are quite fortunate that we've been a remote workforce for over 13 years, so our nearly 200 employees are able to continue focusing on the business and quickly adjust how we're able to support our clients through this difficult time."
While some brands have significantly reduced their ad spend in other digital channels, many are doubling down on their affiliate marketing program and working with their Acceleration Partners team to discover and test new partnerships opportunities.
"We're seeing many affiliates who are actively looking to funnel their traffic into new products, services and brands. At the same time, many clients are shifting the focus of their affiliate partnerships to products that are currently in high demand and move away from those that are not," said Glazer. "Our focus right now is to do whatever we can to help both brands and affiliates by bringing them together and exploring how they can help support each other. These short-term strategies will be essential for longer-term growth when their markets pick up again in the coming months."
About Acceleration Partners
Acceleration Partners is the premier global partner marketing agency. By focusing on Better People, Better Process and Better Performance, our team sets the standard for how brands efficiently grow and refine their marketing partnerships anywhere in the world.
A trusted agency partner to leading brands, our team of seasoned marketers and industry experts help companies build meaningful, lasting, performance-based relationships with strategic partners.
Acceleration Partners has received several prestigious awards and accolades for both our client services and culture, including "Best Agency" (International Performance Marketing Awards), "Best Workplaces" (Inc.), "Best Places to Work" (Glassdoor), "Most Committed to Work-Life Balance" (Digiday).