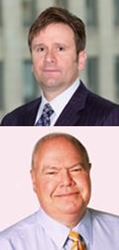 DALLAS (PRWEB) August 21, 2018
AccentCare, Inc. is structuring its leadership team to accommodate the healthcare industry trend of greater post-acute care coordination with health systems. The company announced the addition of two new executive positions to expand and support joint venture partnerships and its rapid growth fueled by the increasingly vital role of home healthcare.
Timothy Wons has joined AccentCare as Senior Vice President, Partnership Development. In this role, he will be responsible for developing new strategic partnerships with health systems on a national level. He joins the company with over 20 years in investment banking and sophisticated corporate transactions in the not-for-profit healthcare sector, as well as similar strategy work for a hospital organization.
Wons' most recent work experience includes Jefferies LLC, where he was Managing Director, and prior to that, LHP Hospital Group, where he served as Senior Vice President, Acquisitions and Development. He previously held a number of executive positions at J.P. Morgan Securities.
Within the past few years, AccentCare has developed or expanded joint ventures with Asante, Baylor Scott & White Health, UCLA Health, and UC San Diego Health. Such partnerships afford health systems clinical integration to extend patient care beyond their four walls. Innovative, quality post-acute care makes the home a viable care setting for a variety of patients, including those with complex conditions.
AccentCare also announced that its largest division, home health, will now be managed by a newly created position, Senior Vice President and General Manager, Home Health, to which Tim Boes was recently named. In this role, he will be responsible for the company's clinical and sales operations in home health for all markets.
Previously the company's home health division had been managed by six regional leaders. Among them, Boes, who was then responsible for the Texas region.
"It's an exciting time at AccentCare, as we are better equipped than ever with leadership, technology, systems, and services to deliver excellent patient outcomes as well as foster and grow strategic partnerships with health systems," said AccentCare CEO Steve Rodgers.
About AccentCare
AccentCare, Inc. is a nationwide leader in post-acute healthcare as well as specialized care management prior to acute episodes. Its wide variety of innovative services ranges from personal, non-medical care to skilled nursing, rehabilitation, hospice, and care management. Headquartered in Dallas, Texas, AccentCare has over 20,000 compassionate professionals in more than 160 locations, collectively serving over 95,000 individuals across 12 states.
AccentCare has over 30 strategic partnerships with insurance companies, physician groups and major health systems, including joint venture companies branded as AccentCare Asante Home Health, AccentCare UC San Diego Health at Home, AccentCare UCLA Health, and Texas Home Health Group.
AccentCare leads the industry in avoidance of unplanned re-hospitalizations, faster starts of care, and quality performance. Among its distinctions, AccentCare has a 4.3-star quality rating for legacy home health agencies, many of which have earned the HomeCare Elite distinction. All hospice locations are CHAP-accredited, many with designations from the We Honor Veterans program. Its approach to care, including proprietary RightPath disease-specific programs, leads the industry in avoidance of unplanned re-hospitalizations, faster starts of care, and quality performance.