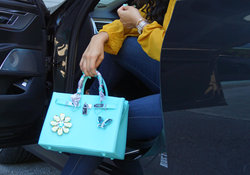 The magic behind the Accents Reign® Embellishments? They are magnetized!
FORT LAUDERDALE, Fla. (PRWEB) November 01, 2019
Currently available - Rubberized Queen's Handbags, disc bound notebooks, the glass embellishments and more. With Accents Reign® embellishments, you can customize and personalize your home and fashion accessories for an elegant, polished and finished look. You'll fall in love with the ability to transform, create custom looks. There is nothing quite like it! Multi-functional and can be used in a myriad of ways.
Embellish and transform your vases, pillars, photo frames, napkin rings and pillows. Also works on handbags, tote bags, clutches, even planner notebooks and journals.
The magic behind the Accents Reign embellishments? They are magnetized! Each magnetic embellishment is secured in place by the patented internal "button" magnet, allowing embellishments to be movable, interchangeable, removable, multi-use and will not damage your items. Handcrafted, gem-like faceted glass and metal. Vividly recreates beloved butterflies and flowers.
About Alexandra Baker:
Alexandra is a Cooper City Wife, Mom and Founder & Creative Director of her lifestyle brand, Home with Alexandra She appears regularly on nationally televised HSN, The Home Shopping Channel, where she is known as your #homebff.