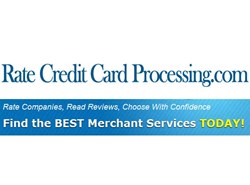 Our reviews make it easy to see which companies serve their clients... and which are solely out to make a quick buck on the backs of their clients....
Fort Lauderdale, FL (PRWEB) December 16, 2013
Hotels, motels and resorts in the tourism industry know that accepting credit cards is not only a convenience for their clients but a necessity for the survival of their business. To ensure hotels and motels owners use only the best performing credit card processors and not those whose services are found wanting, RateCreditCardProcessing.com has released its latest ranking of merchant accounts catering to businesses in the lodging industry.
According to Greg Wong with the comparison company, "We've identified the payment processing features that are most important to our reviewers, and visitors can quickly compare feedback scores to determine the best fit."
The ranking list, featuring the best and worst providers for hoteliers, is ordered solely by customer reviews. Within moments a visitor can figure out which company is providing services best suited to their unique needs.
"We believe there is no better way to get to the bottom of the quality of service a payment processor offers than by hearing from its customers," Mr. Wong said. "From Bed & Breakfast operators to larger hotels, every business deserves top tier quality and service from the people they partner with."
According to Mr. Wong, hoteliers should be looking for a processing company that offers the following:

A comprehensive suite of payment options
Simple account set up
Low processing fees
Rigorous data security
"Saddling ones business with unnecessary costs is not necessary, and there is no need to fall for the bait & switch techniques of unsavory providers" Mr. Wong added. "Our customer reviews make it easy to see which companies serve their clients, and which are solely out to make a quick buck on the backs of their clients."
It's worth noting that a recent FICO data revealed an increase in the U.S. credit card fraud rate to 17 percent, according to a WSJ report. Reports such as this, according to the site, make it paramount that entrepreneurs work only with payment services companies that take security seriously and are equipped to properly protect their clients.
In addition to the annual best of rankings lists of trusted providers available on the site, business owners can browse the guides available covering topics ranging from reducing transactions costs to tax considerations. To learn more about the which payment processors ranked highest or to share customer feedback on a current processor, visit today: Rate Credit Card Processing
About RateCreditCardProcessing.com
RateCreditCardProcessing.com is the go-to site for 100% user driven reviews and feedback on credit card payment processing companies, focusing on consumers' perspectives on how their chosen company has done business with them.
Compare and contrast costs, services and fees for merchant service providers online. Visit: http://www.ratecreditcardprocessing.com