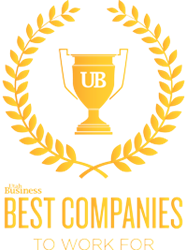 The culture is more like an extended family than a workplace.
SALT LAKE CITY (PRWEB) December 14, 2018
Access Development announced today it has been recognized as one of the best companies to work for in Utah by Utah Business Magazine. The company, along with the other winning recipients, were honored on December 6 at the Grand America Hotel in Salt Lake City.
"We are delighted to be named one of the best companies to work for in Utah by the Utah Business Magazine for the second year in a row," says Access Development's director of human resources, Lisa Oyler. "This recognition could not be possible without our employees and it validates our commitment to them and the value they bring to our company."
This award is one of several that Access Development has received this year. Over the last two months, the company has been honored with awards from The Salt Lake Tribune, Society for Human Resource Management, and the American Psychological Association. The awards are all based in part or entirely on survey results from company employees. Criteria used to determine this year's winning employers were their diversity and commitment to the local community, corporate culture, employee recognition and growth opportunities, and workplace benefits.
Though all employee surveys were anonymous, Utah Business Magazine picked answers from those that stood out. Said one employee, "Our company emphasizes the importance for a work-life balance and believes that employees are the most important part of the company. The culture…is more like an extended family than a workplace."
To see more and hear from Access Development employees, visit https://www.utahbusiness.com/access-development/.
About Access Development
For over 30 years, Access Development has helped organizations with their customers and build revenue, engagement, and loyalty through custom incentives, employee perks, and discount programs. The company's private discount network of over 350,000 merchant locations is America's largest, providing discounts of up to 50% on everyday items to millions of end users. Access also offers the nation's largest mobile commerce platform, featuring over 200,000 merchants offering exclusive "show your phone" mobile coupons. For more information on Access, please visit http://www.accessdevelopment.com or follow us on Twitter and LinkedIn.