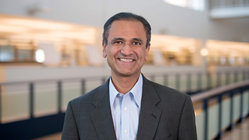 "Harish brings senior leadership acumen and a track record of global business development and transformation experience across industries," said Vardhman Jain, Vice Chairman of Access Healthcare.
DALLAS (PRWEB) April 06, 2021
Dallas-based Access Healthcare, one of the largest healthcare revenue cycle management and IT services providers, has promoted Harish Mysoré as Chief Financial Officer. Harish will be responsible for finance and accounting operations, M&A, commercial banking, investment banking, investor relations, and regulatory compliance in this role. He will also be responsible for corporate development and identifying growth opportunities through organic and inorganic investments, strategic partnerships, and joint ventures.
In his earlier role as the Chief Investment and Transformation Officer, Harish leveraged his investment banking and private equity relationships to acquire a marquee client that expands Access' footprint in health systems. He also oversaw the establishment of a revolving line of credit for the company. In addition, he led Access Healthcare's development of a five-year strategic plan and the investment in an automated and computer-assisted-coding solutions company focused on curating one of the most robust deep learning artificial intelligence platforms for the healthcare revenue management cycle.
Access Healthcare is building the future revenue cycle by building market-leading process automation solutions for high-volume payments automation, claims status checking, denials prevention & management, and revenue cycle analytics. In his role as CFO, Harish will be responsible for Access Healthcare's automation solutions portfolio. Before joining Access Healthcare, Harish held executive management positions across several industries, including technology, healthcare, customer experience, and government services. Most recently, Harish had the senior vice president of corporate development at TTEC, Inc., a publicly-traded customer experience technology and services provider. At TTEC, he led the origination and execution of eight acquisitions doubling healthcare and hypergrowth client footprint and expanding into Canada and India with digital safety services and intelligent automation.
At Cognizant Healthcare (formerly TriZetto Corp.), Harish led corporate development and alliances for the leading healthcare IT software and solutions provider. He executed six acquisitions and formed strategic partnerships that transformed the company from a payer-centric to healthcare IT solutions company serving both payers and providers.
Harish spent his early career in information technology culminating in 16 years at Dell Services (formerly Perot Systems Corp.) in several roles, including head of corporate development, where he led the execution of more than 18 acquisitions and partnerships, including the sale of Perot Systems to Dell in 2009.
"Harish brings senior leadership acumen and a track record of global business development and transformation experience across industries," said Vardhman Jain, Vice Chairman of Access Healthcare. "In the last few months with Access Healthcare, he has already demonstrated the ability to lead large investment and transformation programs. In his expanded role as CFO, he will work with our operations, technology teams to create market-leading solutions across the healthcare value chain."
"I am honored to serve as CFO of Access Healthcare, which I have long admired for its strong technology foundation," said Harish. "I am excited to work with our 14,000+ employees globally, to help shape the company's growth trajectory at this pivotal post-Covid-19 moment affecting healthcare providers and payers while building on the strength of our existing client base and working in partnership with clients to expand our technology-enabled services and offerings."
Harish is based in Access Healthcare's United States headquarters in Dallas, Texas, and earned an MBA from the Wharton School of the University of Pennsylvania.
About Access Healthcare:-
Access Healthcare provides business process outsourcing, applications services, and robotic process automation tools to hospitals, health systems, providers, payers, and related service providers. We operate from 19 global delivery centers in the US, India, and the Philippines, and their 14,000+ staff is committed to bringing revenue cycle excellence to clients by leveraging technology, emerging best practices, and global delivery. Based in Dallas, TX we support over 300,000 healthcare providers, through 70+ clients, serving 80+ specialties, process over $70 billion of A/R annually, and ascribe medical codes to over 30 million charts annually.
Access Healthcare has developed a proprietary robotic process automation platform that has implemented 1,000+ virtual bots across our service verticals which helps organizations gain greater efficiency. Access Healthcare is HITRUST, PCI DSS, SOC, ISO 27001 and ISO 9001 certified, providing the needed security, availability, and confidentiality of sensitive health information. Our people program, integrated processes, and proven track record with our client base has earned us the Leader and Star Performer award by Everest Group's Healthcare Provider BPO Peak Matrix.