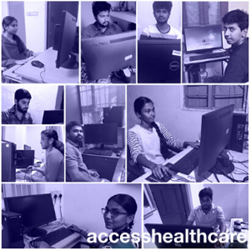 "Contrary to what many businesses fear when considering offshoring their revenue cycle management, we experienced order, concern, dedication, and employees rising above and beyond our expectations." - Shaji Ravi, President & Managing Director, India
DALLAS (PRWEB) May 13, 2020
Dallas-based Access Healthcare Services USA LLC, specialists in healthcare revenue cycle management and IT services, with more than 12,000 employees worldwide, achieved the seemingly impossible task of mobilizing their employees in India and the Philippines to both home and remote work environments in less than 48-hours at the onset of nation-wide mandated office shutdowns during the COVID-19 pandemic. Company executives credit the swift execution of their 4-stage emergency action plan to the company's culture of strong leadership, client service conviction, employee dedication, and proprietary technology solutions.
As early as February, Shaji Ravi, Access Healthcare's President and Managing Director based in India was convinced that work from home orders were imminent in both India and the Philippines. This requirement would have a significant negative impact on the economies of India and the Philippines, as these countries are home to a large number of offshore delivery centers for many global companies. In mid-March, David Tassoni, President of U.S. Operations for Access Healthcare, initiated discussions with senior management about the company's emergency action plan that would mitigate the looming client service delivery and continuity of business challenges due to the expanding COVID-19 pandemic. Management concern was two-fold: the continuing delivery of high-quality services to their healthcare clients; and, to support and maintain the company's 12,000 person workforce (in 13 delivery centers in India and 4 centers in the Philippines), both while being productive and compliant under COVID-19 restrictions.
The Access Covid-19 Action Plan prioritized frequent communication and engagement with all clients worldwide, mobilizing the workforce to new locations in less than 48 hours and deploying a virtual-office hierarchical management strategy. The work-from-home blueprint is atypical in these countries, especially in the revenue cycle management industry, due to asset security, legal concerns, HIPPA constraints, mobility of computer hardware, and availability of internet service in rural areas. Access Healthcare's legal teams worked closely with clients to communicate steps being taken under the company's COVID-19 action plan, the impact on existing terms and conditions, if any, and related mitigation plans.
Heartwarming stories of perseverance and innovation emerged amidst the new remote working mandate. The populations of India and the Philippines often live in multi-generational homes consisting of 800 to 1000 square feet of living space. Some of the remote workers in rural locations would strategically locate their home workspace where they could attain best internet service, which could often times disrupt the typical household routine. Family members graciously adjusted their own schedules to accommodate the Access Healthcare security requirements. The company compensated remote employees for power and internet services at home, as well as providing data cards to those areas with limited broadband connectivity.
"India and the Philippines were impacted enormously," said Ravi, "A new way of conducting business was conceived and executed within 48 hours. Contrary to what many businesses fear when considering offshoring their revenue cycle management, we experienced order, concern, dedication, and employees rising above and beyond our expectations. We want our clients and prospects to know this is a reliable, safe and effective business model."
Currently 99% of the production staff is remote access capable and are operating at over 90% of normal production capacity. The next and final step to operation mobilization will be the gradual and phased return to the delivery centers in the large cities once the lockdown mandate expires.
Access Healthcare's senior management sees their proprietary technology, systems and loyal workforce as their strength. Interestingly, the firm has experienced growth during the COVID-19 pandemic and has even continued their recruitment process, conducting new-hire interviews and testing via Zoom. The newest class of recruits is currently onboarding and training virtually.
Chairman Anurag Jain anticipates increased capital investment in technology and automation for many companies on the near horizon. Following this crisis, he believes the nimble companies will consider their core capabilities, and outsource many secondary functions.
"There will be other crises, no doubt," says Jain. "Pandemics, severe weather events, unstable governments – I'm very pleased with our company's response to COVID-19, and believe we are well positioned for the future."
http://www.accesshealthcare.com
# # #