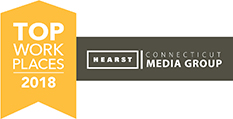 NORWALK, Conn. (PRWEB) October 04, 2018
Access Intelligence, a leading b-to-b media and information company, has been named one of the top workplaces in Southern Connecticut in a just-released annual special section published by Hearst Media Services. The company was one of just 50 organizations cited and honored. This is the fourth consecutive year the Norwalk office has earned this esteemed honor and the fifth consecutive year the company has been so recognized—in 2014, the Rockville, MD-based organization's headquarters was similarly awarded in the Washington, DC metropolitan area survey. To read more, please click here.
The list is based solely on employee feedback gathered through a third-party survey administered by research partner Energage, LLC (formerly WorkplaceDynamics), a leading provider of technology-based employee engagement tools. The anonymous survey measures several aspects of workplace culture, including alignment, execution, and connection, just to name a few.
Access Intelligence, with several offices nationwide, serves business professionals with best-in-class events, professional development, networking opportunities and digital solutions in an array of markets including Marketing, Media, PR, Energy, Satellite, Chemical Engineering, Healthcare and Aviation.
"We are well-known and respected for creating impactful, customized content for industry events, webinars, award programs, and publications and serve more than a dozen market sectors," said Don Pazour, president and CEO. "The reason we can do this successfully is because we have a staff that is unsurpassed and a rich culture and a terrific atmosphere filled with thoughtful individuals who are given the opportunity to advance, grow, succeed and be fulfilled in their chosen career paths. To win this recognition for five consecutive years is an amazing achievement and something that we are incredibly proud of."
About Access Intelligence
Access Intelligence, is a privately held b-to-b media and information company headquartered in Rockville, MD, serving the marketing, media, PR, cable, healthcare management, defense, chemical engineering, satellite and aviation markets. Leading brands include PR News, Ad Exchanger, AdMonsters, Cynopsis, Cablefax, Folio:, Event Marketer, LeadsCon, Chief Marketer, Defense Daily Network, AviationToday, Studio Daily; POWER, and Via Satellite. Market-leading conferences and trade shows include LeadsCon, AdMonsters OPS and Publisher Summits, The Folio: Show, Experiential Marketing Summit, SATELLITE 2019, OR Manager Conference, LDC Gas Forums, Clean Gulf, and ELECTRIC POWER Conference & Exhibition.