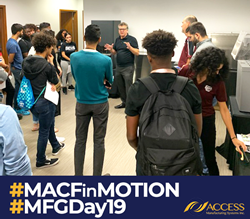 It's very important to educate these students on the latest, most innovative manufacturing technologies. We're really proud to be a part of this campaign.
ORLANDO, Fla. (PRWEB) November 04, 2019
ACCESS Manufacturing Systems partnered with the Manufacturer's Association of Central Florida (MACF) for the 'MACFinMOTION' campaign, which includes various student tours of manufacturing facilities for 'MFGDay2019'.
Twenty-one Cypress Creek High School students were welcomed at the new ACCESS Orlando office for a full day of 3D printing demonstrations, followed by presentations on advanced CAM software, concluding with lunch and a Q&A session with ACCESS manufacturing experts.
"We greatly appreciate the opportunity to work with MACF and help the local education community," said Joe Lagennusa, national sales manager of ACCESS Manufacturing Systems. "It's very important to educate these students on the latest, most innovative manufacturing technologies. We're really proud to be a part of this campaign."
According to the Program Coordinator at Orange County Public Schools, Franco Frazzetta, the goal of the 3D printing program is ultimately to promote additive manufacturing as a career field. "[Because] this is such a new field, we are looking for some mentoring. Our students do have 3D printing programs that they utilize, but we are always looking towards our local manufacturers as models for best practices in the industry to help guide our instruction," Frazzetta said.
Manufacturers Association of Central Florida Director of Marketing & Communications, Christian Davidson, said, "I know the students are excited to visit [the ACCESS] facility!"
The MACF has worked as a non-profit organization, for over 27 years, elevating the local manufacturing industry. Their ties to Central Florida educational institutions allows for partnerships with manufacturing companies, encouraging students to enhance their knowledge and take advantage of the various local manufacturing career opportunities.
ACCESS successfully created an immersive experience for the students, who were able to discover the complexities of designing parts in advanced 3D printing software, as well as witnessing those designs come to life by being printed in various metals and composites on Markforged 3D printers, and RIZE full-color industrial 3D printers.
Students also enjoyed presentations on advanced CAM software and 3D G-code simulation, followed by a Q&A session, along with lunch, courtesy of ACCESS Manufacturing Systems.
About ACCESS:
ACCESS Manufacturing Systems, Inc. is the largest CAMWorks® reseller in the world. For more than 30 years, ACCESS has delivered best-in-class manufacturing software and accessories, along with unsurpassed industry expertise, to thousands of companies across the nation. Our extensive industry knowledge has allowed our customers to enhance their machining operations by reducing setup time, doubling machine capacity, and improving overall quality. To gain ACCESS to the most qualified team of CAM experts in the industry, please visit accessmfgsys.com, or connect with us on LinkedIn, Facebook, and YouTube.