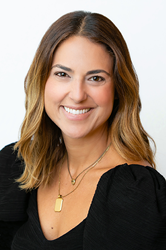 In her role as Vice President of Sales, Tatiana will lead and direct regional sales teams in Las Vegas, Los Angeles, Northern California, Phoenix/Scottsdale, and San Diego
SAN DIEGO (PRWEB) January 23, 2020
ACCESS announced today the promotion of industry veteran Tatiana Lotufo to Vice President of Sales.
Tatiana has been a key sales asset to ACCESS Companies for more than 12 years. In her previous position as Regional Director of Business Development she was responsible for developing and growing strategic partnerships with key hotel accounts across the country. Tatiana is one of the most respected and beloved players in the events industry – among both clients and team members. She was recently awarded the ACCESS Ambassador Award which recognizes ACCESS employees who epitomize the brand and its core company values.
In her role as Vice President of Sales, Tatiana will lead and direct regional sales teams in Las Vegas, Los Angeles, Northern California, Phoenix/Scottsdale, and San Diego
"This promotion should come as no surprise to anyone who knows Tatiana and has first-hand experience with her service obsession, her collaborative spirit, and her effortless ability to inspire those around her," shared ACCESS CEO Jennifer Miller, DMCP. "Tati's dedication to building and nurturing long-lasting and time-tested partnerships across the industry is just one of the reasons I'm confident she'll be so successful in this new position."
About ACCESS
Founded in 1969, ACCESS sets the standard for excellence in award-winning, experience-based destination management services and event production throughout North America. Local expertise everywhere. Innovative solutions anywhere.