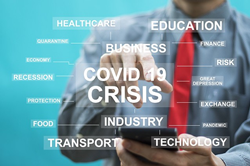 RSVD refocused their mission and worked with MountainTop Data to identify their target audience so they could get the message out on how they can help businesses of all types find a way to safely reopen their doors to customers.
LOS ANGELES (PRWEB) June 01, 2020
As states start to lift stay-at-home orders and consumers begin venturing out, businesses need to have plans in place to help maintain social distancing—not only to reduce the chance of a potential resurge in COVID-19 cases but also to help their customers feel safe and confident. From Michigan to California, businesses are being expected to adhere to state mandates, while finding new ways to serve their customers. (1),(2) Now more than ever, it is imperative that companies of all sizes look at their business plans and determine how they can adjust to a new normal.(3) "COVID-19 is forcing many businesses to develop new business plans in order to reopen and stay open," says Sky Cassidy, CEO of MountainTop Data—a leader in data intelligence. "For many, their ideal customer's profile may be different, or they may have new and different needs—and businesses have to discover ways of meeting those needs".
Pivoting to a new business plan is exactly what MountainTop Data's client, RSVD, the SaaS-oriented mobile platform for managing crowds, did. Formed in 2018, RSVD's original mission was to help organizers of big events like conferences and tradeshows keep lines short through simple reservation technology. As more and more tradeshows and events began to be cancelled across the world, RSVD knew they needed to reinvent their business model if they wanted to continue their company's success.(4),(5) RSVD refocused their mission and worked with MountainTop Data to identify their target audience so they could get the message out on how they can help businesses of all types find a way to safely reopen their doors to customers.
"Right now, there are a lot of band-aid solutions for businesses to put in place before they reopen," says Brandon Stuart, the co-founder of RSVD. "While our original business model was built on the ideas of convenience and that people did not want to waste time standing in line, the outbreak of COVID-19 and the necessity of social distancing, made us realize our technology could be used to increase safety and help implement social distancing and that the technology would be valuable to all types of businesses where people typically have to wait in line or for an appointment." And those types of businesses include farmers' markets, gyms, small businesses, franchises—"any business that doesn't have a tech team or big budget to build the technology themselves," Stuart added.
When it comes to the bed-rock foundation of every thriving business, Cassidy stresses the importance of companies relying on marketing data. The CEO notes that accurate, up-to-date and clean marketing lists are what successful companies are built on, and that any fracture in the 'data foundation' causes other functions of the business to faulter—resulting in dried up leads, plummeting sales, and overall revenues diminishing. This is the starting point for how companies can begin to establish themselves and continue progressing—such as with RSVD.
MountainTop Data was able to provide RSVD with on demand access, through their TopData Search platform, onto and through their business Marketing database so RSVD could pull whatever target contact data they needed at any time.
"This is important because it allows companies that need to do audience testing in a new and volatile market move very quickly," Cassidy says. "If access to targeted data that supported their new business model can connect them to new clients allowing them to open their doors for their customers, then everyone wins."
About Mountain Top Data:
Headquartered in Los Angeles, MountainTop Data has been providing data services for B2B marketing for nearly two decades. With an unrelenting commitment to quality, they were the first company to guarantee the accuracy of their licensed data and business emails. They provide marketing lists, data cleaning, data appending, and data maintenance services. Their data services have been used by some of the world's biggest brands across a multitude of various industries, from multi-national telecommunication companies to office technology, to PR firms and more. For more information, visit http://www.mountaintopdata.com.
1. Dixon, Jennifer. "As Michigan businesses reopen, Gov. Whitmer says they must have a COVID-19 response plan" Detroit Free Press, May 18, 2020, freep.com/story/news/local/2020/05/18/executive-order-says-businesses-must-have-covid-19-response-plan/5214791002.
2. Goffard, Christopher. " 'It's still kind of weird': L.A.-area businesses say reopening with limits has challenges" Los Angeles Times, May 17, 2020, latimes.com/california/story/2020-05-17/coronavirus-la-businesses-reopening-curbside-service-challenges.
3. Lake, Rebecca. "6 Ways To Rebuild Your Small Business After COVID-19" Forbes, April 30, 2020, forbes.com/sites/advisor/2020/04/30/6-ways-to-rebuild-your-small-business-after-covid-19/#333188dc16cc.
4. Smith, Kevin. "Coronavirus cancellations pile up for trade show businesses" The Orange County Register, March 12, 2020, ocregister.com/2020/03/12/coronavirus-cancellations-pile-up-for-trade-show-businesses.
5. Eaton, Collin. "Coronavirus Is Devastating the Conference Circuit" Wall Street Journal, March 4, 2020, wsj.com/articles/coronavirus-is-devastating-the-conference-circuit-11583317802.
# # #