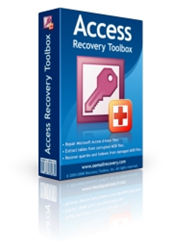 Access Recovery Toolbox, a powerful Access database recovery solution.
Sacramento, CA (PRWEB) July 22, 2014
Recovery Toolbox, a recognized expert in the field of data recovery and the developer of an entire line of file repair tools, releases a completely updated version of Access Recovery Toolbox, a powerful Access database recovery solution. The product features an all-new file analysis core and an intuitive UI that works extremely well for professionals and novices. http://www.oemailrecovery.com/access_recovery.html
Recovery Toolbox, an established developer of specialized data recovery tools for a broad range of mainstream applications and one of the leading experts in the area of data recovery, is glad to announce the availability of a long awaited update for Access Recovery Toolbox, an Access database recovery solution. The new version of the program features a largely improved recovery core and an interface that all current users are very well familiar with. http://www.oemailrecovery.com/
Access Recovery Toolbox is a compact, fast and highly efficient solution for opening damaged Access database files and extracting the maximum of valuable data from them. Intended for everyone, this Access database recovery tool features an intuitive interface with a minimum of control elements and offers nearly complete automation of the recovery process. http://www.oemailrecovery.com/howuse_access_recovery.html
The program works with *.mdb and *.accdb database files of version 2003 and up, and recovers the most important elements of Access databases, including: tables (fields, indexes), table data, queries and relations. For users' convenience, the program comes with a database browser that lets them view the contents of the files they are about to process and, if necessary, mark only particular ones for recovery.
The program efficiently restores the contents of damaged Access database files of any size and damaged in all conceivable types of accidents ranging from the consequences of virus attacks and power outages to hard drive failures and file system errors. The program is fully compatible with Access files of versions 2003 – 2013, requires no special skills, experience, additional components to be downloaded or anything else – Access database recovery can be started immediately after its installation. The program is a perfect solution for system and network administrators at large companies, where Access database corruption is a commonplace problem.
"The release of Access Recovery Toolbox is a great opportunity for us to demonstrate the advantages of the updated engine," said Victor Bobrov, Senior Software Engineer at Recovery Toolbox. "The update does bring a lot of improvements, and I surely hope that the program takes its well-deserved place among the best recovery tools on the market."
The free demo version of this Access database recovery tool is available on the official site of Recovery Toolbox. http://www.oemailrecovery.com/download.html