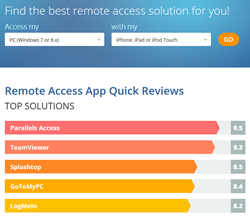 The usability of remote access solutions is a key differentiator.
San Francisco, CA (PRWEB) December 22, 2014
AccessMyThings is pleased to announce the official launch of accessmythings.com, a website that makes it easy to find, compare, and download the best remote access solution for you.
"We use remote access software in our daily lives," said Eric Weidner, Chief Content Officer of AccessMyThings. "Our goal is to present which of the top applications - GoToMyPC, LogMeIn, Parallels Access, Splashtop and TeamViewer - work best in particular situations."
Many current online reviews of remote access applications are focused on usage scenarios for enterprise support or are too abstract and technical for the average user. Our solution reviews are focused on the specific criteria that matter the most to consumers and business professionals:

Performance, Compatibility and Security
Interface & Usability
Control & Sharing Tools
Overall Value
"Regular folks write our reviews," said Mr. Weidner. "We want short, precise explanations of what it's actually like to use remote access software in specific situations. For example, gallery managers, student teachers, salesmen, financial pros - people in the real world sharing their experience using various remote access solutions."
An example is an article about LEGO Batman 2: DC Super Heroes, which was tested to compare performance of Parallels Access vs.TeamViewer. The reviewer tested on an iPhone and an iPad while the game was hosted on a Mac.
"Frankly, the reviewer didn't think this was a good way to play games at all," said Mr. Weidner. "The remote access app vendors talk about playing games hosted on your computer on your smartphone all the time, but it actually pretty much sucks."
While it's clear that Internet security is on people's mind these days, the usability of remote access solutions is a key differentiator. Do you need to access applications on your PC with your Android phone, or need to access videos on your Mac with your iPhone? Which remote access solution lets you do this with the least hassle and the highest level of security?
AccessMyThings addresses how specific devices can best access your specific digital assets on remote computers or from cloud storage; however, in the near future much of this will become standardized and users will eventually have remote access to an ever increasing number of applications and objects, which is generally called the "Internet of Things" (IoT). Also, the type of devices that can access the IoT will expand from mobile and tablet to watches and glasses, and other devices on manufacturers' drawing boards right now.
About AccessMyThings
As remote access from smartphones and tablets to local computers expands to include more types of mobile devices accessing things in people's homes, offices and cars, helping users find the best way to access their things becomes even more important. AccessMyThings will guide people to the best solution for their increasingly connected and complex digital lives.
###