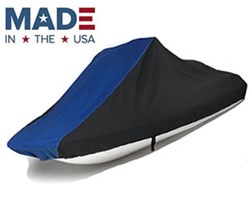 The Haegan Build Your Own custom made personal watercraft cover features the fastest shipping times of any custom made cover available today.
Aliso Viejo, CA (PRWEB) October 16, 2013
AccessorizeYourVehicle.com is expanding its selection of personal watercraft covers by adding the custom Jet Ski covers recently introduced by Haegan Industries. Also included are Haegan's universal fit personal watercraft covers.
The personal watercraft market was invented by Kawasaki when they introduced their first "Jet Ski" in 1973. Since that time, the new class of water vehicle created by its introduction as been labeled Personal Watercraft. Haegan's new custom covers are available for Honda, Jet N Spray, Kawasaki, Polaris, Seadoo, Tigershark and Yamaha brands of Personal Watercraft.
Haegan's new line of custom watercraft covers are ordered for a specific year, make and model watercraft, and the product selector on AccessorizeYourVehicle.com also allows customers to select their choice of fabric colors. Available colors are Black, Royal Blue, Red and Blue Camo. Additionally, customers can mix colors by having one color on the center panel and a second color on the side panels.
In addition to the Design Your Own custom personal watercraft cover, Haegan now has three different universal fit covers to meet the needs of customers with varying budget constraints.
About AccessorizeYourVehicle.com:
For almost a decade AccessorizeYourVehicle.com has been providing affordable, high-quality accessories for cars, trucks, boats, and ATVs. It offers everything from seat covers to floor mats to anti-theft devices. To find out what AccessorizeYourVehicle.com can do for you, visit http://www.AccessorizeYourVehicle.com.