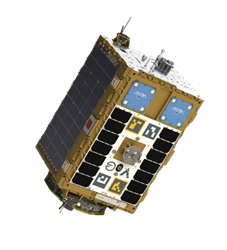 BOSTON (PRWEB) April 19, 2021
Accion Systems today announces that two TILE 2 in-space propulsion system units will launch onboard an Astro Digital micro-satellite aboard the June 2021 SpaceX Falcon 9 rideshare launch. Astro Digital's Tenzing satellite is a rideshare satellite, hosting several payloads. Also included are two TILE 2 ion electrospray propulsion systems that will test on-orbit maneuvers in LEO and will test proximity operations maneuvers supported by Starfish Space software.
"Propulsive and RPOD technologies are critical to enabling the future of space missions," said Chris Biddy, CEO of Astro Digital. "We are thrilled to support Accion Systems and Starfish Space with this important demonstration."
The TILE propulsion system is uniquely superior to conventional electric propulsion, pioneering ionic liquid electrospray for commercial and government propulsion activities. The TILE 2 is the smallest system available, with unparalleled system SWaP (size, weight and power), that combines the use of a safe, inert liquid propellant and a simple mechanical design with few moving parts to create a propulsion system that is low-cost, compact, low pressure, and has less than 50% of the power draw of other propulsion technologies.
As part of the mission Accion Systems and Starfish Space will complete an on-orbit proximity operations demonstration. The team will combine Starfish's CEPHALOPOD software and Accion's TILE 2 thrusters, both already a part of the Tenzing mission, to work together to perform the first ever demonstration of rendezvous and proximity operations trajectories using low-thrust electric propulsion.
"Efficient proximity operations will enable a new set of activities in orbit," said Austin Link, Co-Founder of Starfish Space. "Partnering with Accion on this test is key to validating our respective technical developments and showing they can work together."
Starfish Space is commercializing their CEPHALOPOD software package, which opens up new opportunities for satellite rendezvous, proximity operations and docking (RPOD) missions. CEPHALOPOD is autonomous RPOD software that can use electric propulsion, enabling small RPOD spacecraft. This on-board guidance, navigation, and control capability gives small servicing vehicles eight times more maneuvering capability, which results in greater mission longevity and versatility.
"Precision proximity operations are critical for maintaining large constellations, refueling and repairing satellites in orbit, and countless other new space missions from in-space manufacturing to space tourism." said Peter Kant, CEO of Accion Systems. "Combining Accion's precise, modular thrusters with Starfish's autonomy software will bring needed innovation to in-space navigation."
About Accion Systems
Accion Systems develops advanced satellite propulsion systems for the space industry. Accion's in-space propulsion technologies optimize scalability, performance, and efficiency. Accion's flagship product, TILE, uses proprietary ion electrospray thrusters, bringing electric propulsion to satellites of all sizes and redefining in-space capabilities. Accion Systems was founded in 2014 and is based in Boston, MA.
http://www.accion-systems.com
About Astro Digital
As a holistic offering, Astro Digital currently designs, builds, and operates micro-satellite systems supporting space-based turnkey missions for business applications, including earth observation, communications, In-orbit demonstrations, in addition to various science and exploration applications. Astro Digital is headquartered in Santa Clara, California.
For more information on the new CORVUS satellite platforms or services and technologies available from Astro Digital, visit astrodigital.com.
About Starfish Space
Starfish Space is giving life to on-orbit services. Founded by former Blue Origin and NASA engineers, they are developing the Otter, the first small and versatile space tug that will lower costs and increase availability for satellite servicing missions including life extension and active debris removal. Starfish technologies, including their proprietary CEPHALOPOD software, are key logistics, autonomy, and robotics infrastructure for the developing off-world economy and orbital industries like manufacture, assembly, tourism, and mining.
http://www.starfishspace.com