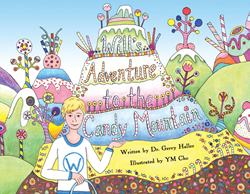 A wonderful children's book perfect for the holidays!
MEDINAH, Ill. (PRWEB) November 04, 2019
Gifted educator and author Dr. Gerry Haller presents a delicious and wholesome fantasy story that will touch the hearts of readers of all ages in her new children's picture book "Will's Adventure to the Candy Mountain." More than just a sweet experience, the entertaining story also instills the importance of being a good and kind person, as well as the benefits that can be gained with it.
"Will's Adventure to the Candy Mountain" follows a young boy named Will whose dream finally comes to reality as he embarks on a magical journey to Candy Ville and travels through the Candy Mountain. During his travels, he meets new friends along the way and discovers how being a good and respectful person can really pay off.
"I first created this story based on my grandson Will as I would tell my grandsons stories at bedtime and decided to write a book based on their favorite story so children everywhere could also read about this very exciting fantasy that will touch their hearts forever," said Dr. Haller. "I also wanted to emphasis the importance of being a good and respectful person as I really feel that is something that is needed in the world today."
Readers will be asking for seconds (of reading the book again that is) after they finish "Will's Adventure to the Candy Mountain" and will be reminded that good things come to those who are respectful and considerate. To learn more please visit, http://www.willsadventuretothecandymountain.com.
"Will's Adventure to the Candy Mountain"
By Dr. Gerry Haller
ISBN: 978-1-5320-7579-7
Available through Amazon, Barnes & Noble and iUniverse
About the author
Author Dr. Gerry Haller is an accomplished educator having received many awards in the teaching, curriculum and administrative fields. Some of these awards include being recognized for The Golden Apple, The Carnegie Foundation for her teaching in the Inner City of Chicago and receiving the Phi Delta Kappa Award for being outstanding Principal of the Year. Dr. Haller received Primary, Gifted and Art Degrees form Bradley University, Master in Administration from Augustana, and Doctor of Education from Nova Southeastern University. She is a gifted public speaker having presented at conferences from London to the U.S. and has taught principals, teachers and children throughout her career. She has her own way of teaching curriculum which has proven successful as she took her school from #25 to #1 in 5 years. Dr. Haller is also a proud mother and grandmother and currently resides in Medinah, Illinois.
For Review Copies & Interview Requests Contact:
LAVIDGE – Phoenix
Lauren Dickerson
ldickerson@lavidge.com, 480-306-7117