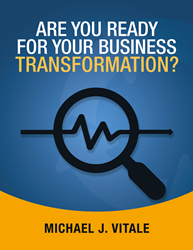 "My career experience is in planning and executing large scale business transformations. While carrying out this work, I noticed many of the same problems occur. This inspired me to look for the reason."
MARIETTA, Ga. (PRWEB) September 09, 2019
Many companies undergo business transformations, but are they ready for the accompanying change? In "Are You Ready for Your Business Transformation?" Mike Vitale introduces a new approach to understanding, planning, implementing and optimizing business transformations. Throughout the book, Vitale explores the importance of being prepared for the change that occurs throughout a transformation process.
Vitale offers companies and readers a step-by-step plan illustrating readiness assessment as well as preparations to successfully transform a business. From charts to research, Vitale stresses the importance of preparedness in order for an organization to experience a successful transformation and illustrates the circumstances that can lead to failure.
The book presents evidence on how many companies have failed in the past by not being ready for their business to transform. The author shares how companies can better prepare to address the change if they understand where and when it will occur, and if they are able to evaluate whether their company is prepared for it. If the company is not prepared or ready to address the issue, this book offers suggestions and methods to help the business become prepared.
The author's professional experience in delivering technology platforms and applications to support strategic business performance goals is seen throughout this book. Vitale provides expert commentary to businesses undertaking strategic and digital transformations, and to consulting companies providing transformation services.
"My career experience is in planning and executing large scale business transformations. While carrying out this work, I noticed many of the same problems occur. This inspired me to look for the reason," said Vitale. He continued, "I discovered the root cause was poor preparation for the volume of change that occurs throughout a transformation. Not only was the change poorly understood, but there was no formal way to measure readiness to address the change, nor was there a formal way to better prepare for the change. This book includes readiness assessments and readiness preparations, tailored to the lifecycle phases of a business transformation."
Vitale's book is about improving your readiness to address the change in a business transformation. It will help answer the important questions that companies must ask themselves to successfully transform.
"Are You Ready for Your Business Transformation?"
By Michael J. Vitale
ISBN: 9781732931107 (Softcover); 9781732931114 (eBook)
Available through Barnes & Noble, X4MU, and LULU
About the author
Michael J. Vitale is an accomplished Senior Technology Executive with a proven track record for delivering technology platforms and applications. His expertise includes Leading Large-Scale ERP Conversions, Delivering Digital Business Capabilities, Strategic Portfolio Management and Leading Organizational Change Management. He is the owner of X4MU, LLC providing consulting services to businesses undergoing strategic/digital transformations. He brings more than 30 years of leadership experience in information technology and software engineering in the retail, distribution, manufacturing, industrial products and telecommunications sectors. He holds bachelor's and master's degrees in electrical engineering, a master's in business administration and PhD in computer science.
###
For general inquiries, interview & review copy requests contact:
LAVIDGE
Grace Bywater
480-998-2600 x 534
gbywater(at)lavidge(dot)com