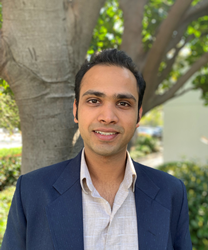 "As our practice continues to grow, it's important for the firm to have a great group of individuals who are also growing and supporting the practice," said Rick Parent, Managing Director of Gumbiner Savett Inc. "We are proud to nurture the great talent that we have in Southern California."
SANTA MONICA, Calif. (PRWEB) March 05, 2019
Gumbiner Savett Inc. is pleased to announce the promotion of five employees to a new step in their employment with the firm. Those promoted Sugam Singhal, CPA, promoted to Audit Manager; Imee Pascual and Michelle Qin, CPA, promoted to Audit Seniors; and Young Kang and Paul Sussman, promoted to Tax Seniors.
Singhal has been with the firm since November of 2014 and has over eight years of accounting and audit experience with multinational corporations across multiple functions. His clients include companies in the manufacturing and distribution, retail, real estate, and construction industries.
"From the beginning Sugam has been an important asset to the firm," says Shreedhar Kothari, CPA, a Gumbiner Savett Shareholder and head of the Audit and Accounting department. "It has been enjoyable to watch him gain additional skills and experience and become a leader and mentor in the department."
Imee Pascual has been with Gumbiner Savett since 2017. She has a Master of Science in Accounting from California State University, Northridge. Pascual's has experience in multiple industries and focuses her work on financial statement audits and employee benefit plan audits.
Michelle Qin, CPA, has been with Gumbiner Savett since 2017 and is a graduate of the University of Southern California. Michelle is experienced in performing external financial audits for mid-sized companies in real estate, manufacturing, and the wholesale distribution industries.
Young Kang joined the firm in August of 2018 and is a graduate of University of California, Riverside. Young's practice is focused tax compliance of both individual and corporate clients.
Paul Sussman has been the firm since 2016 and is a graduate of San Diego State University. Since then he has been gaining experience in both income tax, property tax, and financial statement audits. Sussman focuses on a wide array of industries.
"As our practice continues to grow, it's important for the firm to have a great group of individuals who are also growing and supporting the practice," said Rick Parent, Managing Director of Gumbiner Savett Inc. "We are proud to nurture the great talent that we have in Southern California."
About Gumbiner Savett Inc. - http://www.gscpa.com
Gumbiner Savett Inc. is a full-service accounting and consulting firm headquartered in Santa Monica. Founded in 1950, its purpose is to enrich its clients' lives by facilitating the achievement of their financial objectives and providing career fulfillment for its employees.
Gumbiner Savett Inc. is dedicated to being a preeminent assurance, tax and business advisory firm for growth oriented businesses, middle market enterprises and high-net worth individuals in Southern California. In addition to traditional private and public company accounting and tax services, it specializes in general business consulting, estate and trust planning, fraud examination studies, business services and bookkeeping and litigation support.
Gumbiner Savett Inc. is an independent member firm of BKR International.