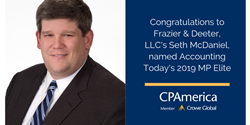 "It's a tremendous honor for me and our team," said McDaniel. "A great deal of our success comes from our relationship with CPAmerica and the other member firms."
GAINESVILLE, Fla. (PRWEB) August 12, 2019
Accounting Today, the premier publication of the certified public accounting industry, has named CPAmerica member firm Frazier & Deeter, LLC's Seth McDaniel to the 2019 Managing Partner Elite list. McDaniel is one of ten managing partners across the country to receive this prestigious recognition from Accounting Today.
Under McDaniel's leadership, Frazier & Deeter has expanded into multiple new niches, established national practices, and implemented the technology — including an entirely virtual IT environment — to support these new specialties and geographic expansions. Even as the firm grows its presence, including opening an office in London earlier this year, McDaniel is locally recognized as a community leader with accolades such as being named one of the Most Admired CEOs in Atlanta in 2019 by the Atlanta Business Chronicle. His accomplishments embody the Frazier & Deeter brand promise he developed, "Investing in relationships to make a difference."
"It's a tremendous honor for me and our team," said McDaniel. "A great deal of our success comes from our relationship with CPAmerica and the other member firms."
Accounting Today's Managing Partner Elite brings together a selection of the country's best firm leaders, from firms of all sizes, to highlight the skills and strategies it takes to lead an organization to success in the 21st century.
Past CPAmerica members recognized as an Accounting Today MP Elite include:

2012 MP Elite – David Graling, Gelman, Rosenberg & Freeman CPAs
2015 MP Elite – Gregory Burbach, Honkamp Krueger & Co., P.C.
2015 MP Elite – Michael Gillis, DMJ & Co., PLLC
2017 MP Elite – Alton Miyashiro, N&K CPAs, Inc.
For the complete listing of Accounting Today's 2019 MP Elite, please visit: https://www.accountingtoday.com/list/the-managing-partner-elite.
About CPAmerica, Inc.:
An accounting association made up of independent certified public accounting firms that built on four key goals: to continuously improve; to make more money; to strengthen relationships among member firms; and to bring prestige to firms both domestically and internationally. As a member of the eighth largest global accounting network Crowe Global, CPAmerica expands to over 200 independent accounting and advisory services firms in 130 countries, and has a combined firm revenue of $4.3 billion. Learn more about CPAmerica at http://www.cpamerica.org.
About Frazier & Deeter
Frazier & Deeter is an award-winning accounting and advisory firm that serves clients from global corporations to growing businesses by accounting for today while advising for the future.
With 10 offices across the U.S. and U.K., the FD family of brands provides expertise across a wide range of tax, audit, accounting, compliance and advisory services to support the complex, evolving needs of the firm's clients.
Frazier & Deeter has been named one of the Top Accounting Firms to Work For and one of the Fastest Growing CPA firms among the top 100 firms in the U.S. by Accounting Today magazine. Frazier & Deeter has also been repeatedly named a Best of the Best CPA firm by INSIDE Public Accounting and a Top Firm for Women by The Accounting MOVE project.