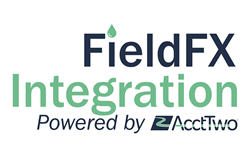 "We know what happened in the field, both good and bad, almost immediately. Our average days-to-invoice has decreased by approximately two days," said Kyle Kirk, Silvertip CFO and AcctTwo Client.
HOUSTON (PRWEB) December 09, 2020
Accounting and finance experts, AcctTwo, today announced a new case study featuring the digital transformation of Silvertip Completion Services, a Midland, TX-based oilfield services provider focusing exclusively on providing wireline and pumpdown solutions to companies in the Permian Basin, and translating that attention into the safest, fastest, most error-free completion services possible.
Now, the teams at Silvertip can easily see and review insights from complex financial and operational data in a single source of truth. And because their accounting solution is integrated with their field operations management software, they no longer have to manually enter all that data. Even when Silvertip gets back to 100% utilization, they said they will most likely not have to add any additional FTEs to accommodate field tickets and billing.
After reviewing a number of solutions, Silvertip couldn't find the right combination off the shelf that included an oil-and-gas-industry specific front end with a field ticketing and billing system that automated the real-time data aggregation and increasingly detailed reporting needed by oil and gas services companies, their clients, and their investors.
Without automation, companies are forced to manually track data in separate flat file systems such as Microsoft Excel or Access. Meaningful reports must be created by hand, making report creation time consuming, prone to error, and difficult to repeat or scale.
"From day one, our goal at Silvertip Completions has been to automate manual processes that are generally accepted as standard, full-time employee-(FTE) driven activities by most oil and gas companies. The implementation of FieldFX, LiquidFrameworks' mobile field operations management solution, coupled with AcctTwo's FieldFX integration with Sage Intacct has been the largest and most successful advancement for Silvertip in that vision," said Silvertip CFO Kyle Kirk.
"We have also eliminated the need for our field engineers and supervisors to carry laptops, using Samsung tablets instead, cutting our computing cost in about half. We have near real-time data without an FTE manually updating Sage Intacct. We know what happened in the field, both good and bad, almost immediately. Our average days-to-invoice has decreased by approximately two days," added Kirk.
To read the full case study, visit: https://www.accttwo.com/silvertip-completions-cuts-computing-costs-in-half-with-fieldfx-accounting-integration
About AcctTwo
AcctTwo is focused on delivering the future of finance and accounting to its customers. AcctTwo has three main solutions – Cloud Accounting Software, Managed Accounting Services, and Software Development, powered by the only accounting software that is AICPA endorsed. Our dedicated team of over 100 people has helped nearly 1,000 organizations through their digital transformation with software implementations, accounting outsourcing, and consulting. AcctTwo is seven-time Sage Intacct Partner of the Year and was named four times to the Inc. 5000. AcctTwo has been recognized by our customers as a leader in overall satisfaction and popularity through their reviews on G2.
AcctTwo is headquartered in Houston, Texas. For more information about accounting software and solutions, please visit https://www.accttwo.com or call 713-744-8400.