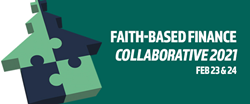 "We've all been through so much this year. Now, it is more important than ever to lean on trusted advisors and your collective network."
HOUSTON (PRWEB) February 11, 2021
AcctTwo, the leading digital transformation technology providers, announced the dates for their sixth AcctTwo Faith-Based Finance Collaborative conference. For the first time, the church finances conference will be virtual. On February 23rd and 24th, AcctTwo will host their virtual event designed to educate church leaders about what they need to know in 2021 to accelerate their mission and Ministry.
"We've all been through so much this year. We've learned. We've adapted. We've grown stronger. Now, it is more important than ever to lean on trusted advisors and your collective network. Other perspectives, experiences, and expertise can help guide your organization, especially in times of darkness to help find the light. We've all encountered similar challenges in our ever-changing world," said Allison Webb, AcctTwo's Head of Not-for-Profit Vertical.
The theme for the 2021 AcctTwo Faith-Based Finance Collaborative is "God has not given me a spirit of fear, but of power, love and sound mind." 2 Timothy 1:7 (King James Version). Faith-Based Finance Collaborative 2021 attendees will:

Hear from their peers and other leaders in the church Finance and accounting field on topics including technology, regulatory changes, and best-practices.
Learn how to close gaps in knowledge and focus for their finance and accounting teams.
Find out the best way to deliver results in their ministry using church metrics.
The full agenda is coming soon, but is slated to include these topics:

New Functionality for Church Finances
Nonprofit Dashboards
Legal Outlook for 2021
Challenges in the New Hybrid Work World
Thought Leader Sessions from Bill.com and Martus
Customer Panels, as well as Lightning Talks on a Handful of Topics
This year's event sponsors include:

Altec: helping businesses go paperless, digitally store, and automatically distribute documents
APS Payroll: workforce management solutions, HR & payroll services
BetterSpaces: workplace wellbeing app, designed exclusively to help you move beyond the tiny boxes on the screen and truly connect to your team, your wellbeing, and your purpose
Bill.com: cloud-based software that simplifies complex, back-office financial operations
Emburse Nexonia: expense and time management software
FloQast: accounting workflow automation that streamlines common accounting processes
Martus: budgeting tools integrated with your accounting system
MortarStone: analytics intelligently designed to increase giving
Pushpay: donor and church management tools including- financial tracking, donor development, volunteer management, community engagement, and custom mobile applications
Sage Intacct: best-in-class cloud ERP software and the only AICPA-preferred not-for-profit accounting software solution
TouchPoint: cloud-based church management system that equips leaders to grow fully devoted followers of Christ
Venn Technology: helping nonprofits maximize the value of Salesforce.com
Vision 2: a comprehensive giving solution for effective stewardship.
Please visit the AcctTwo Faith-Based Finance Collaborative Sponsors page for the latest.
As an added bonus, all AcctTwo Faith-Based Finance Collaborative registrants will get a membership to AcctTwo's Mission Support Community, an online community designed to foster collaboration among faith-based/church and nonprofit organizations to share ideas, best practices, and resources in the areas of finance, technology, administration, and other functions that support their mission.
The church finance event is virtual for the first time this year and will be delivered live over two half days on Tuesday, February 23 and Wednesday, February 24, 2021. NASBA-certified CPE credit will be offered for those that attend. Those interested in attending the virtual event can access the registration page here. Tickets are $25 per person.
About AcctTwo
AcctTwo is focused on delivering the future of finance and accounting to its customers. AcctTwo has three main solutions – Cloud Accounting Software, Managed Accounting Services, and Software Development, powered by the only accounting software that is AICPA endorsed. Our dedicated team of over 100 people has helped nearly 1,000 organizations through their digital transformation with software implementations, accounting outsourcing, and consulting. AcctTwo is seven-time Sage Intacct Partner of the Year and was named four times to the Inc. 5000. AcctTwo has been recognized by our customers as a leader in overall satisfaction and popularity through their reviews on G2.
AcctTwo is headquartered in Houston, Texas. For more information about accounting software and solutions, please visit https://www.accttwo.com or call 713-744-8400.