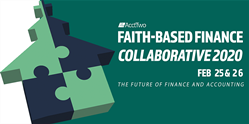 This year's theme is "How the Future of Finance and Accounting Will Impact Growth in Faith-Based Organizations."
HOUSTON (PRWEB) February 20, 2020
AcctTwo, one of the nation's leading providers of Sage Intacct's cloud accounting software and of managed accounting services announced that the firm is hosting its fifth Faith-Based Finance Collaborative conference in Dallas, TX on February 25th and 26th. AcctTwo's longtime customer, Concord Church, will provide the venue for the event.
This year's theme is "How the Future of Finance and Accounting Will Impact Growth in Faith-Based Organizations." The event features esteemed, expert keynote speakers and is being hosted at an AcctTwo client location, Concord Church in Dallas, TX led by Pastor Bryan Carter.
2020 conference speakers include:
-William Vanderbloemen, President & Founder, The Vanderbloemen Search Group
-Mark Matlock, President, WisdomWorks Ministries
-Cory Halliburton, Partner, Weycer, Kaplan, Pulaski & Zuber, P.C.
-Glenn Wood, Administration at Seacoast Church
-17 church finance and Sage Intacct experts from AcctTwo
Faith-Based Finance Collaborative 2020 attendees will have an opportunity to:
-Learn from their peers and other leaders in the church and faith-based finance and accounting space on topics including technology, regulatory changes, and best-practices.
-Learn how to close gaps in knowledge and focus for their finance and accounting teams.
-Find out the best way to to deliver results in your Ministry using church metrics.
-The event takes place from 7:30am to 5pm CST on Tuesday, February 25th, and from 7:30am until 3pm CST on Wednesday, February 26th. A social event, A Convergence of Connection, will be hosted Tuesday evening at Concord Church and will feature food, fun, and fellowship. Live music will be provided by Concord Church members.
Co-sponsors and exhibitors include:
-Concord Church - a multi-generational church with a rich heritage and legacy in Dallas, TX
-Sage Intacct - best-in-class cloud ERP software and the only AICPA-preferred church accounting management solution
-APS Payroll - workforce management solutions, HR & payroll services
-Bill.com - a leading provider of cloud-based software that simplifies complex, back-office financial operations
-Martus Tools - budgeting tools integrated with your accounting system
-MinistryPlatform - a Church Management System (ChMS) to manage people, events, groups, and donations
-Nexonia - expense and time management software
-Venn Technology - helping nonprofits maximize the value of Salesforce.com
-CapinCrouse - a national full-service CPA and consulting firm devoted to serving nonprofit organizations
-Vanderbloemen - serves Churches with hiring, compensation, succession, and culture solutions
Those interested in attending can access the registration page here. Tickets are $175 per person.
About AcctTwo
AcctTwo is focused on delivering the future of finance and accounting to its customers. AcctTwo has three main solutions – Cloud Accounting Software, Managed Accounting Services, and Software Development, all built around Sage Intacct's best-in-class financial applications. Our dedicated team of over 100 people has helped nearly 1,000 organizations optimize finance and accounting through software implementations, accounting outsourcing, and consulting. AcctTwo has been recognized by Sage Intacct as its Partner of the Year from 2014 – 2018 and by our customers as a leader in overall satisfaction and popularity through their reviews on G2.
AcctTwo is headquartered in Houston, Texas. For more information, please visit http://www.accttwo.com or call 713-744-8400.