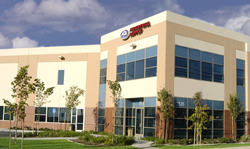 We are grateful to Ace Industrial Supplies for this donation as it allows us to continue helping the most vulnerable communities
BURBANK, Calif. (PRWEB) May 05, 2021
Ace Industrial Supply, a leader in industrial tool wholesale and distribution, has donated 400 medical gowns and 300 KN95 masks to the non-profit organization, Homeboy Industries. The donation will help serve the Homeboy Industries communities and reflects the mission of Ace Industrial Supply, supporting Los Angeles programs that help individuals back on their feet.
Ace Industrial Supply believes that as Los Angeles County adapts into the new normal, workers and institutions helping vulnerable populations must receive an abundance of the necessary PPE to provide superior care.
The high-quality gowns feature a closed-back, necktie closure, elastic cuffs, and knitted sleeve cuffs for optimal protection from dirt, grime, dust, minor splashes, and particulates. The KN95 masks offer 4-layers of defense by utilizing a non-woven inner layer, melt blown filters, hot air cotton air filters, and a non-woven outer shell. KN95 masks are designed to reduce skin irritation and ensure comfort even during hours of usage. Their lightweight profile makes them easy to store and carry. Most importantly, KN95 masks deliver greater protection than standard disposable 3-Ply masks.
"We hope that our donation will provide vital equipment to Homeboy Industries of Los Angeles and aid in the recovery process of the entire county," says Ace Industrial Supply CEO, Holden Stearns. "Helping our local organizations who are proactively aiding those in need during these times is very important to us."
Homeboy Industries is committed to rehabilitating former gang members by providing re-entry programs and therapeutic support. Every patient undergoes a strategically planned 18-month program which helps them recover from trauma and prepares them with the skills to be readily employed. Homeboy Industries is located in the City of Los Angeles making it convenient for the communities of Downtown Los Angeles, Glendale, Pasadena, Atwater, Eagle Rock and North Hollywood to receive assistance. In its last 35 years in business, Ace Industrial Supply has donated and supported the West Los Angeles area through various charitable contributions.
"We are grateful to Ace Industrial Supplies for this donation as it allows us to continue helping the most vulnerable communities," says Alegria Castro, Community Outreach Manager of Homeboy Industries. "Working together to provide hope and assistance, boosts optimism during the uncertain times of this pandemic."
About Ace Industrial Supply
Ace Industrial Supply, Inc. of California distributes wholesale of industrial tools to a 275,000-clientbase. With over 6,000 different items available to be shipped to your business or home. We proudly sell top quality brands from Milwaukee Tools, Bosch, and more offering tools, compressor, jump starters, and other related products. To find out more information, visit https://www.acetools.com/.