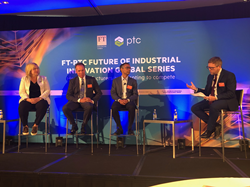 "We need to lead, not follow - It is not a matter of IF, it is a matter of WHEN you will need to create your strategy for digital transformation." - Karen Norheim, American Crane & Equipment Corporation
DOUGLASSVILLE, Pa. (PRWEB) November 18, 2019
On Wednesday, November 6th 2019, American Crane's President & COO, Karen Norheim, spoke alongside other industry professional at the Financial Times-PTC's Industrial Innovation Series event in New York City.
This event was the first of a six-part series of global events created by the Financial Times and PTC discussing how manufacturers are adapting and staying competitive during the digital transformation that is upon us, and what constitute successful innovations in manufacturing.
Karen Norheim, one of the events many dynamic speakers, shared her insights, and success stories. "We need to lead, not follow - It is not a matter of IF, it is a matter of WHEN you will need to create your strategy for digital transformation."
American Crane & Equipment Corporation is a leading manufacturer of custom designed electric overhead cranes and other material handling equipment. Karen currently serves as Chair on the national board of Women In Manufacturing and is the Vice President of the CMAA, (Crane Manufacturers of America Association), the leading crane industry trade group.