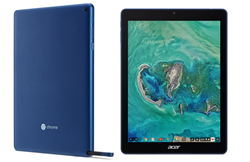 The Acer Chromebook Tab 10, the first tablet running Chrome OS, boasts an incredibly portable design that is comfortable to hold and move around the classroom, office or business.
SAN JOSE, Calif (PRWEB) November 09, 2018
us.acer.com [Acer __title__ ]today announced the launch of its new Acer Chrome Tablet Seed Program, which gives businesses of all sizes and K-12 schools across the United States the opportunity to test an Acer Chromebook Tab 10 running Chrome OS for free, without obligation to purchase.
Participants in the program will take part in two brief conference calls with Acer representatives. The first call will confirm program details and discuss the specific needs of their organization. The second call will take place 30 days after delivery of the system to discuss their impressions of the Chromebook. After this call, customers may explore further options with Acer or return the system. There is no fee or obligation to purchase the seeded product or any other Acer product at any time.
To participate in the Acer Chromebook Seed Program, schools and businesses can simply fill out this form. They will then be contacted by an Acer representative.
Benefits to Organizations
Thousands of schools across the United States have already standardized on Acer Chromebooks for their speed, simplicity and security. Educators will appreciate that the lightweight device brings technology into the hands of even younger students and promotes engagement in the classroom. The Chromebook Tab 10 allows students to be engaged and learn more on the 9.7-inch touch IPS display with QXGA (2048 x 1536) resolution. Everything from websites to eBooks as well as Chrome and Android apps can be viewed in stunning clarity.
Businesses of all sizes are finding that Chrome delivers the ideal platform for collaboration, especially in cloud-based organizations. The Chromebook Tab 10 delivers secure and consistent access across mobile, SaaS and legacy apps. The included Wacom EMR stylus allows business users to interact with apps and capture data accurately, while students can take notes, sketch and collaborate. The Wacom EMR stylus can be embedded in the chassis dock for secure storage. Plus, it doesn't require a battery and is resistant to accidental drops.
In both business and education settings, IT departments will appreciate that the Chromebook Tab 10 is easy to deploy, manage and update. The remote management console gives IT more control, freeing up resources from basic administration and manual patching. In addition, Chrome OS protects against ever-evolving threats, keeping student, business and customer data secure.
The Acer Chromebook Tab 10, the first tablet running Chrome OS, boasts an incredibly portable design that is comfortable to hold and move around the classroom, office or business. In addition, the Acer Chromebook Tab 10 provides long battery life of up to 9 hours – enough for a full day at work or school. In addition, the Acer Chromebook Tab 10 fully supports Google Play, so schools and businesses will have access to millions of Android apps to let them collaborate, learn more and get more done.
For more information, organizations can contact Acer at us.reseller(at)acer(dot)com or 1800.848.2237.
About Acer
Founded in 1976, today Acer is one of the world's top ICT companies and has a presence in over 160 countries. As Acer looks into the future, it is focused on enabling a world where hardware, software and services will infuse with one another to open up new possibilities for consumers and businesses alike. From service-oriented technologies to the Internet of Things to gaming and virtual reality, Acer's 7,000+ employees are dedicated to the research, design, marketing, sale, and support of products and solutions that break barriers between people and technology. Please visit http://www.acer.com for more information.
© 2018 Acer America Corp. All rights reserved. Acer and the Acer logo are registered trademarks of Acer Inc. Other trademarks, registered trademarks, and/or service marks, indicated or otherwise, are the property of their respective owners. All offers subject to change without notice or obligation and may not be available through all sales channels. Prices listed are manufacturer suggested retail prices and may vary by location. Applicable sales tax extra.