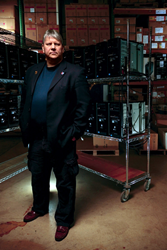 We have a long-standing partnership based on a mutual desire to bring quality, leading-edge technology to every aspect of military operations.
CHICAGO (PRWEB) April 19, 2016
Ace Technology Partners will be showcasing its all-in-one cybersecurity workstation from Booth #1114 at the AFCEA Defensive Cyber Operations Symposium April 20-22 in Washington, D.C.
The cutting-edge workstation features a 34", 21:9 aspect ratio, 3440 x 1440 resolution curved screen. Other top-of-the-line components include:

6th Generation Intel Core i7 (6700K) or Xeon E5-2699V3 processor with up to 18 cores
Full-sized desktop style graphics cards including Titan X with 12 GB GDDR5
Up to 32 GB DDR4, dual-channeled memory installed
Up to 2 x 2TB 2.5" hard drives or SSDs
Trusted platform module standard and SMARTcard reader optional
Built in Gigabit LAN and wireless LAN (wireless is removable)
Anti-vibration and acoustically dampened - low noise output
TAA compliant - assembled in the U.S.
Liquid cooling for silent operation.
Ace Technology Partners CEO John Samborski said, "We are very pleased to have another opportunity to work with the U.S. military, particularly AFCEA and Signals magazine. We have a long-standing partnership based on a mutual desire to bring quality, leading-edge technology to every aspect of military operations."
Defensive Cyber Operations are vital to the U.S. Defense Department's missions. The networks within DOD must be adaptive, resilient, and effective across a range of uses and against diverse threats. Leveraging technology, promoting agile acquisition, and building new processes and procedures are all areas that the 2016 Symposium will tackle through a mix of talks, panel sessions, and training tracks.
The theme of this year's event is Rethinking How We Build the Networks: Synchronizing Industry and DOD for Internet 2.0. Speakers from the Defense Information Systems Agency (DISA), USCYBERCOM, the DoD CIO office, combatant commands, DOD agencies, industry, academia, and the military services will add insight. More than 200 companies will be exhibiting and about 4,000 people are expected to attend.
Acknowledged as one of the best custom technology resellers in the U.S., Ace Technology Partners currently holds the following contracts: NETCENTS 2, SEWP V, and NASPO ValuePoint (formerly WSCA). It is a Woman-Owned Small Business operating in both the public sector and commercial sector. Channel partners include Intel, Supermicro, NVIDIA, Mellanox and Samsung among others. The company has been an industry leader since 1983. In addition to some of the finest academic institutions in the U.S., long-term clients include the U.S. Department of Energy and the U.S. Department of Defense. Its principal, recognized industry expert John Samborski, is an alumnus of Intel's prestigious board of advisors. In addition to its Greater Chicago headquarters, Ace Technology Partners has locations in New Jersey, Pennsylvania, Virginia, and Arizona. To contact Ace Technology Partners, call 1-877-223-2667 or 1-847-952-6900 or visit http://www.acetechpartners.com.