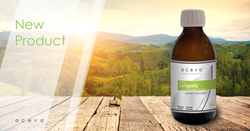 Omega 3's are one of the most underutilized nutrients on the market
PEORIA, Ill. (PRWEB) November 08, 2018
Aceva, pioneers in the market of naturally sourced nutritional supplements, this week announced the launch of its first liquid fish oil, Omega Longevity. As the world becomes more health prevalent, nutrients the body can not naturally produce, such as Omega 3, become more and more important. Omega Longevity is designed to be easy to take with meals while providing superior absorption and shelf life.
"Omega 3's are one of the most underutilized nutrients on the market" says CEO Dr. Joseph Esposito. "Omega Longevity delivers essential omega 3 fatty acids in their natural triglyceride form. Many other products use ethyl ester omega 3's which are produced from unnatural methods and can hinder absorption into the body."
Omega Longevity uses a signature antioxidant blend naturally found in Krill Oil which according to researchers allows it to stay safe from oxidative damage for almost 200 hours. This antioxidant, astaxanthin, is a naturally occurring dark red pigment found in many aquatic animals and is considered to be the most powerful fat soluble antioxidant. It has been shown in clinical trials to provide many exceptional benefits, including supporting eye and skin health, cardiovascular and immune function support as well as improved athletic endurance performance and muscle recovery.
Aceva's roots started from a mission that hits close to home for its founders. In 2005, Dr. Joe Esposito and Dr. Cristina Esposito lost their father due to a medical intervention that could have been replaced by a simple, cost-effective nutritional solution. This sparked them to pursue a lifelong mission of educating people about natural health solutions and creating a product line guaranteed to provide healthier outcomes. Now Aceva is a leader in its marketplace for providing high quality nutrients that help people live their potential.