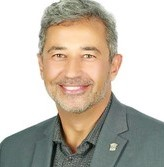 "ACHC has been involved with NASP since its inception and we firmly believe in its mission to support the extraordinary efforts of pharmacies that serve this unique and challenging class of patient." - José Domingos
Cary, NC (PRWEB) October 17, 2018
The National Association of Specialty Pharmacy (NASP) has named Accreditation Commission for Health Care (ACHC) President and CEO José Domingos to its board of directors.
"The National Association of Specialty Pharmacy is pleased to welcome José Domingos to our Board of Directors, whose broad and varied stakeholder composition is reflective of our membership and industry," said Sheila Arquette, Executive Director of NASP. "José joins a diverse group of experienced and accomplished health care veterans tasked with elevating the practice of specialty pharmacy, promoting the education and certification of specialty pharmacists, and advocating for public policies that ensure patients have appropriate access to specialty medications and receive the high quality, high-touch, patient care and support services which are critical to optimally managing and living with complex, life-altering, and often life-threatening diseases from the specialty pharmacy of their choosing.
"ACHC has been involved with NASP since its inception and we firmly believe in its mission to support the extraordinary efforts of pharmacies that serve this unique and challenging class of patient," said Mr. Domingos. "I was humbled to receive the offer to assist the organization in a more formal way and I look forward to working with an outstanding group of committed industry professionals toward that end."
Since the introduction of its Pharmacy Accreditation program in 1996, and as the first accrediting body to offer accreditation in specialty pharmacy, ACHC has grown to become a leading national accreditation organization with more than 900 pharmacies accredited in the U.S. and Canada. With distinction programs in Oncology, Infectious Diseases/HIV, Hazardous Drug Handling, and Nutrition Support, ACHC offers a diverse suite of pharmacy accreditation services, including: Ambulatory Infusion Center, Community Retail, Infusion, Long Term Care, Sterile and Non-Sterile Pharmacy Compounding (PCAB), and ACHC Inspection Services. ACHC's pharmacy services are aimed at helping growth-oriented pharmacies access a broader patient population by demonstrating their compliance with the industry's most relevant standards across a wide range of service areas.
ACHC is a nonprofit accreditation organization that has stood as a symbol of quality and excellence since 1986. The organization has CMS deeming authority for Home Health, Hospice, and DMEPOS, and a Quality Management System that is certified to ISO 9001:2015. ACHC is the provider's choice for accreditation because of its personal Accreditation Advisors, relevant and realistic standards, competitive pricing, and a friendly, consultative approach to accreditation. Accreditation by ACHC reflects an organization's dedication and commitment to meeting standards that facilitate a higher level of performance and patient care.
For more information about ACHC Accreditation programs, or to download ACHC Accreditation Standards, please visit achc.org or contact us at customerservice@achc.org or (855) 937-2242.
About NASP
The National Association of Specialty Pharmacy (NASP) is the only national association representing all stakeholders in the specialty pharmacy industry. NASP members include the nation's leading independent specialty pharmacies, pharmaceutical and biotechnology manufacturers, group purchasing organizations, patient advocacy groups, integrated delivery systems and health plans, technology and data management vendors, wholesalers/distributors and practicing pharmacists. With more than 100 corporate members and 1,200 individual members, NASP is the unified voice of specialty pharmacy in the United States.