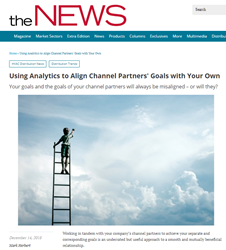 It's important for you and your channel partners to drill down and base marketing decisions on concrete figures.
ATLANTA (PRWEB) February 07, 2019
According to a new ACRH's The NEWS article, authored by Incenitve Solutions President & CEO, Mark Herbert, The best way to create profitability in the modern, digitized marketplace is by sharing data and analytics with your channel partners in order to ensure that you both share aligned goals, and you create a mutually beneficial relationship in the process.
Herbert advocates for "working in tandem with your company's channel partners in order for you both to achieve your separate and corresponding goals," as this is a way that many companies don't use to produce relationships that are beneficial for both them and their channel partners. In the article he states that the best method is to start with a strong foundation, saying "No matter how disparate your contractors', distributors', or other channel partners' motivations may seem, it's imperative that you form strong and trusting relationships right off the bat." He says that feedback Incentive Solutions has received from its own clients and channel partners has shown them that they are incentivized to be and remain loyal when you initiate personal contact and develop early, meaningful connections with them. This rapport building is also enhanced when you put systems into place that: make communication and workflow between your companies easier, and day-to-day functions smoother. They also love when you provide training for your company's specific tools.
Herbert says, "A solid foundation is a great first step to sharing information, especially statistics and data that can help both your company and channel partners... improve performance and results."
Analytics and data are extremely important for your company and your channel partners because they provide you with exactly what you need to know about your end-users, customers, and channel partners, as well as what their journeys and experiences are with your brand, your product, and your website. Herbert says, "The ways profits are earned and how products and companies are marketed are ever-changing. It's important for you and your channel partners to drill down and base marketing decisions on concrete figures." This process lets you zero in on what exactly is making you and your partners successful, so that you can tailor fit your marketing and sales strategies approach these sectors with the most success. This allows you and your partners to have a leg up on the competition they're not working intimately with.
Mr. Herbert states that another best practice in channel success is rewards. He adds, "It's crucial to offer your channel partners some incentive to release consumer data to you. The most successful incentive programs give your channel partners the chance to earn rewards for sharing their data and analytics with you."
Incentive Programs, especially specialized programs like Incentive Solutions' channel incentive programs, are priceless when assisting in the facilitation of data sharing between you and your channel partners. They make it fast, easy, and rewarding to share the data that can make you and our partners successful, all while offering desirable rewards to everyone in the process.
The main theme behind Herbert's words is to just go beyond traditional and vanilla business values. If you put more into your channel partner relationship, you'll inevitable get more out of it. He says, "Both you and your partners have the shared goal of increasing sales and utilizing stronger business practices. When you rely on numbers to support new or improved initiatives, all parties can feel confident that changes are beneficial to them. This shared mindset is the first step to creating a lasting relationship and more success that equates to larger profits in the future."
About Incentive Solutions
Incentive Solutions, Inc., founded in 1994 and based in Atlanta, GA, offers online rewards, travel incentives and gift card rewards. Since its creation, Incentive Solutions has focused on delivering more than just rewards, innovating the incentive industry by utilizing emerging online technologies. Acting as valued partner and trusted advisor to clients, they help organizations increase sales, motivate employees, build customer loyalty, create positive work environments and improve channel sales relationships.
Incentive Solutions
2299 Perimeter Park Drive, Suite 150
Atlanta, GA 30341
866-567-7432