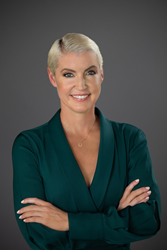 NEW YORK (PRWEB) October 01, 2020
Acker, the world's destination for fine and rare wine, announced today a set of strategic hires including the appointment of Jamie Pollack as Global Managing Director of Business Development and Sales, and Alicia Martell, who will serve as Global Head of Authentication and Quality Control.
Already the leading wine auction house in the world for eight of the last ten years, the hires of Pollack and Martell form part of Acker's extensive, strategic plan to extend its holdings over the lion's share of the luxury wine market – by volume of wine sold and dollar earnings, and cement Acker as the undisputed leader in the fine wine sales and wine authentication spaces.
Previously serving as Global Managing Director of Auctions at a competing firm, Pollack will support key business initiatives, and service its highest net worth clients, while managing sales teams across Acker's offices in Hong Kong, Tokyo, London, Brussels, Copenhagen, New York, and Delaware. Her wine legacy spans two decades, the last of which she spent leading competing wine auction house, Zachys, to achieve its highest ever year-end earnings of over US $120M. Also serving as auctioneer, Pollack oversaw multiple, landmark auctions, such as a Chateau-direct offering from Lafite Rothschild. Prior to her tenure at Zachys, Jamie worked in fine wine distribution and retail sales, and also served as Wine Director of New York City institution, the Carlyle, and as sommelier at the three-Michelin starred Le Bernardin. Jamie achieved certifications from the American Sommelier Association and the Wine and Spirits Education Trust Diploma, and also joined harvests in Central Otago and Burgundy, most notably at Domaine Georges Mugneret-Gibourg in Vosne Romanee. Jamie's position with Acker will begin in November.
"It is my pleasure to work alongside Acker's executive team in leading this great company into a new era of growth," said Pollack. "My primary objective in joining the team is to continue to elevate the company to the wine world's highest standard; undisputed leader in the luxury wine space in client service, sales and professionalism. I am extremely proud to bring my experience, passion, and integrity to this legacy company, which was built on these very principles two hundred years ago."
Adding to an established roster of strong women executives at Acker is Alicia Martell, already regarded as one of the most respected wine authenticators in the industry. Martell will spearhead inspection and authentication over the hundreds of thousands of bottles that go through Acker's auctions annually. Formerly Director of Auction Operations at Zachys, Alicia brings a wealth of knowledge regarding the wine authentication process and will manage quality control procedures across Acker's global operation, elevating existing processes to the highest specifications.
Said Acker Chairman, John Kapon, of the new hires, "Jamie and Alicia's addition to the Acker team and the incorporation of their experience with our record-setting auction team is a monumental step in support of our mission to expand our growth, bolster our processes, and continue providing a level of service second-to-none in the industry. I am thrilled to have these two executives join our team as we take Acker into the next chapter of its history."
Pollack and Martell come to Acker at a time of great investment on behalf of the company toward expansion and innovation, including the opening of offices in London and Denmark, a new US operation in Delaware, and the launch of a new website. The company is also developing key strategic partnerships and working on pioneering authentication technology that it believes will significantly impact the entire industry.
Acker CEO, Irv Goldman, shared, "These strong additions to Acker will bring a new level of expertise and prowess to our business, as we continue to navigate a period unlike any other. Acker has consistently held the number one spot in the fine wine marketplace for well over a decade, and we are dedicated to continuing our growth, not only from a sales perspective, but also in how we approach expansion, processes, and procedures to ensure that we set the highest quality standards in the industry."
For more information, please visit http://www.AckerWines.com.
About Acker
Established in 1820, Acker is the oldest wine shop in America and the world's largest fine and rare wine auction house. Since third-generation wine merchant John Kapon, Chairman of Acker, started the auction business in 1998, the house has gained worldwide recognition. Acker offers a vast array of services, including cellar consultations, a deep retail inventory of fine and rare wine for immediate sale, first-class wine education amenities, and its ne plus ultra – fine and rare wine auctions.