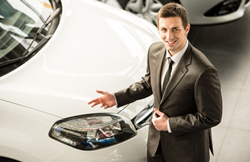 The showroom at the dealership is open to individuals on an appointment basis.
ST. LOUIS (PRWEB) April 21, 2020
As the coronavirus pandemic has spread across the country, individuals and businesses have had to adjust. Ackerman Toyota has adjusted in some major ways. The showroom at the dealership is open to individuals on an appointment basis.
Customers who might have hesitations with visiting the dealership can take comfort in the new cleaning procedures that have been put into place. Areas that are touched most often, such as doorknobs, handles, countertops, etc. are being cleaned more often. In addition, individuals that would like to take a vehicle for a test drive can rest assured that the vehicle they are interested in has been cleaned thoroughly before the test drive appointment.
The service department at Ackerman Toyota is still open. It is offering a free pick-up and drop-off service for a limited time. The service department should be called to schedule an appointment and to discuss the service's availability. Customers will not be able to take advantage of this limited time opportunity if an appointment is made online.
Ackerman Toyota has earned the trust of its customers over the years by having an efficient purchasing process. From the time a customer arrives at the showroom of the dealership to the moment the individual drives off in a new vehicle, the person will have only spent two hours at the dealership.
Interested parties that would like to make an appointment at Ackerman Toyota can call or text 314-486-9718 to schedule an appointment as well as visit https://www.ackermantoyota.com/ to view the dealership's current inventory. Individuals that would like to learn more about or take advantage of the free drop-off and pick-up service being offered by the service department at Ackerman Toyota can call 314-351-3000. The dealership is conveniently located at 2020 Hampton Avenue in St Louis.