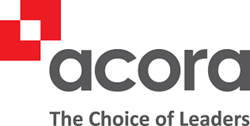 This really is a great opportunity for both companies and we're genuinely excited to be partnering with such a well-known services company as Acora. Quentin Clothier, TransVault
Clevedon, UK (PRWEB) March 01, 2017
TransVault, the leading developer of email archive migration solutions, today announced a new partnering relationship with Acora, an innovative IT services company with a global client base.
An MSPmentor 501 awardee in 2016, and therefore amongst the world's best managed service providers, Acora have over 25 years' experience in providing exceptional IT outsourcing services for a wide variety of verticals, including financial, manufacturing, distribution and real estate. Already supporting enterprises as they journey to Cloud solutions such as Microsoft Office 365, Acora had experienced legacy email data as a barrier to their customers' adoption of these modern IT systems.
Having tried their hand at a manual approach to email archive migrations, it was quickly decided that Acora would need to stock an automated solution which could accelerate customers' progress and enable wholesale adoption of Cloud archiving as part of their overall IT strategy.
Commented Lee Ganly, chief information officer of Acora, "Partnering with a leading archive migration ISV such as TransVault made perfect sense for our business. We'd tried doing this type of migration ourselves for customers looking to adopt Office 365 but quickly discovered these projects require sophisticated solutions capable of moving high volumes of data, meeting often very complex requirements from the customer. We've already done several migration projects using TransVault's excellent product suite and now have a great deal of confidence in offering this service as part of an overall migration project to the Cloud".
Acora and TransVault are planning some specific educational campaigns to the financial services vertical in 2017, as market trends suggest that this industry is more and more ready to adopt Office 365 as a one-stop-shop for email retention compliance and eDiscovery purposes.
Quentin Clothier, director of strategic alliances for TransVault, said, "This really is a great opportunity for both companies and we're genuinely excited to be partnering with such a well-known services company as Acora. Strategically it makes sense; TransVault gets a trusted pair of hands using its software and Acora will build a successful migration business. Acora's customers will get the value and peace of mind knowing their legacy data is being migrated by TransVault software, so it really is a win win all round".
Connect with Acora and TransVault on LinkedIn to stay up to date with industry news and hear more about email archive migrations to systems such as Microsoft Office 365. For anyone in doubt about the efficacy of such Cloud solutions, Acora and TransVault have a jointly published whitepaper on the topic – http://www.acora.com/resource-category/white-papers/
About TransVault (http://www.TransVault.com)
Since 2006 TransVault has led the market with its highly specialized archive migration solutions for the enterprise. When businesses encounter technological change brought on by a merger or acquisition, a planned shift to the Cloud, or the obsolescence of their archive or storage solution — they turn to TransVault to preserve accessibility to their business records. Over 1,300 customers from around the world have relied on the TransVault architecture to protect the integrity of their valuable legacy data whilst ensuring chain-of-custody, faultless eDiscovery and seamless user accessibility — no matter the complexity of the migration, nor the archive stack. TransVault solutions are available through an accredited international network of partners with dedicated Migration Specialists certified on TransVault solutions. TransVault continues to achieve year-over-year growth and has become the preferred archive migration solution for global customers in all verticals, especially those with a heavy dependency on data sanctity and regulatory practices.
About Acora (http://www.acora.com)
Acora is an award winning IT services company with over 25 years' experience of delivering innovative IT solutions to a global client base of over 200. We are ranked amongst the top 50 global managed services suppliers. Financially stable and demonstrating a strong balance sheet, Acora currently manages contractual revenues in excess of £40m and employs over 200 people.
TransVault Media Contact:
Steve Bird
Email. steve.bird(at)transvault(dot)com
Tel. =44 3333 407316
Skype: stevebirdtvs
Acora Media Contact:
Judith Storr
Email. jstorr(at)acora(dot)com
Tel. +44 844 2642222 (Opt 2)