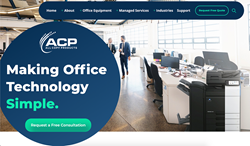 "We believe that our new website is a better reflection of all the ways we strive to provide our customers with everything they could possibly need to maximize their office efficiency." – Chris Williams, ACP Director of Marketing
DENVER (PRWEB) February 06, 2020
ACP announced the launch of their brand-new company website on February 3rd, 2020. With their new website, ACP hopes to show how businesses of all sizes and across every industry can benefit from everything ACP has to offer.
Consisting of over 300 elaborate pages, the newly-designed layout creates an interactive experience for all end-users. This modern site provides visitors with an easy-to-navigate web experience where they can learn about the different ways that ACP is helping companies address the problems they face in their modern office environment.
ACP highlights the various office equipment technology they offer with dedicated pages full of educational information as well as a 200+ page product catalog where customers can discover more information about the equipment they are interested in prior to purchase!
In addition to the technology solutions, ranging from coffee and water services to document management systems and scanning services, the site gives an insider's look into ACP's newly completed corporate headquarters, which was completed Summer 2019. ACP's current customers also benefit from easier access to customer support services thanks to more centrally-located online forms.
To learn more about ACP and all that they have to offer businesses, visit http://www.allcopyproducts.com.