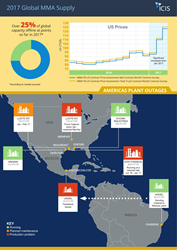 We are constantly looking for ways to reduce costs so that we can continue to provide products to our customers at a competitive rate.
Houston, Texas (PRWEB) August 17, 2017
Prices of acrylic sheet (commonly referred to as plexiglass) have increased up to 27% over the past 12 months due to a shortage of methyl methacrylate. Up to 25% of global PMMA production has been offline this year. This has created resin shortages globally.
In addition to reduced MMA product, there has been shortages in the supply of raw materials used to make MMA. The materials include refinery grade propylene, the primary feedstock for the base of MMA.
MMA shortages in North America began July 2016 when the Deer Park, Texas facility for Dow Chemical experienced feedstock issues. The 360,000 ton per year plant was forced to reduce its production rate due to damage to a local propylene pipeline. The facility returned to normal production rates in January 2017. During the downtime, DOW was forced to purchase large quantities of materials from the Asian and South American markets, limiting the supply for other companies.
Unigel's Mexican facility experienced feedstock issues as well. This forced the company to send materials from its Brazilian plant, reducing available material for merchant sale even more. Because Dow Chemical and Unigel both sell to Europe, this has also contributed to a major shortage in the European market.
Lucite International has also experienced problems. The Beaumont MMA production plant went down for maintenance in January and February. Then a force majeure was declared at the Lucite Memphis facility in January due to mechanical failures. Monomer supply is still facing shortages from other producers.
MMA producers have started to recover from the shortage, however the industry is months away from replenishing an inventory that can keep up with consumer demands. This shortage, in addition to the changes in the chemical industry, will continue to have a significant impact on the global supply and demand of MMA for the next several months if not longer. Industry leaders expect prices to continue to rise throughout the end of the year.
Acrylic Prices Rise 27% Through Q2 Amid Methyl Methacrylate (MMA) Supply Issues
Global Market Affected by MMA Shortages; Plexiglass Prices Rise During Q1 and Q2

Extruded Acrylic: 27% increase since October 2016
Continuous Cast Acrylic: 20% increase since October 2016
Cell Cast Acrylic: 31% since May 2016
Acrylic Tube and Rod: 8% increase since March 2017
*percentages are based on global averages and vary by producer
"I've worked in this industry for 19 years and I have never seen anything like this. We are constantly looking for ways to reduce costs so that we can continue to provide products to our customers at a competitive rate. We have diversified our supply chain and kept inventory levels higher than normal during this volatile time. We have a strong commitment to having product available to our customers at all times." – Katie Clapp, A&C Plastics
Source: Sale, Katherine. "Global MMA Supply Shortage" ICIS. Reed Business Information Ltd, 2017. Web. 15 Aug. 2017.