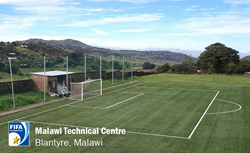 We are honored to help expand the reach of sports in Malawi, and promote the development of football and youth sporting talent.
Austin, Texas (PRWEB) March 18, 2015
The Chiwembe Technical and Development Centre in Malawi, Africa now has one of the finest synthetic turf playing surfaces, certified to FIFA level play.
The new pitch was supplied by Act Global as part of a FIFA Goal Project, which enables member associations to fulfill developments to advance football in their countries. FIFA awarded Malawi the grant based on their event management performance, financial prudence and popularity of football. Football is the leading sport in this region, but the country has a shortage of quality playing surfaces.
Act Global was selected because of their high-quality artificial turf and commitment to FIFA international performance standards. Act had previously fulfilled a comparable FIFA Goal project at Kamuzu Stadium, also in Blantyre, Malawi.
The field was built in cooperation by local contractors Real Civil Engineers and Act Global's own contractors. The company has a skilled installation crew in Africa to offer the best in local technical ability, who work alongside Act's European installers to achieve top performance standards. The pitch features a natural green blend of spined monofilament fibers from Bonar Yarns.
The pitch is part of a larger renovation to the Chiwembe Technical and Development Centre, to include an office block, hostels, a kitchen and cafeteria. This will be used as a training base for the development of Malawi football clubs and players in Malawi, with a special focus on youth development. The FIFA Recommended Mark indicates one of the top playing surfaces in the world, and Chiwembe Technical Center is now capable of hosting Super League and Cup games.
"We are honored to help expand the reach of sports in Malawi, and promote the development of football and youth sporting talent," said Chris Clapham, managing director and co-owner of Act Global.
This was Act Global's sixth completed FIFA Goal installation in Africa, following projects in Sierra Leone, Kenya, Malawi and two in Zimbabwe. Four more African Goal Projects are in progress in Congo, Burundi, Tanzania and Guinea.
About Act Global
Act Global is a world leader in synthetic turf and artificial grass manufacturing. The company's Xtreme Turf and Xtreme Lawn products replicate natural grass for use in international stadiums, indoor sport centers, synthetic lawns and other synthetic grass uses. Its LiteEarth and AvTurf products add capabilities for landfills and airport applications. Act Global has manufacturing locations in USA, Europe and Asia and installations in over 70 countries. Act Global is notable for currently being the first company in the world that is a FIFA Preferred Producer for Football Turf, Synthetic Turf Council Certified Manufacturer, World Rugby Preferred Turf Producer, and holds an ISO 9001 certification. For more information visit http://www.ActGlobal.com.