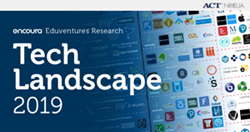 Most attempts to provide a deeper understanding of market pressures rely on an analysis of trends of implemented solutions or the competitive environment of vendors within a market segment. Our research has shown that relying solely on these approaches can obfuscate the overarching pressures."
BOSTON (PRWEB) June 24, 2019
ACT | NRCCUA, an educational data science, analytics, and research organization, today announced the publication of the Eduventures 2019 Higher Education Technology Landscape (Landscape). Eduventures Research, ACT | NRCCUA's research division, began publishing the Landscape to make the market more understandable and help higher education leaders evaluate the expanding array of standalone and bundled offerings. Available today, this Landscape is part of an ongoing body of research that includes updated market data and trends for specific segments of the technology market.
Since the inception of this Landscape in 2014, classifying technology solutions has proven to be both challenging and dynamic: various solutions have overlapping functionalities, and there are conflicting marketing messages around the benefits solutions provide. As a result, the accompanying Landscape Report, to be published in fall 2019, will provide greater insight into the technology segments through the lens of macro pressures.
This year, while our overall classification method remains the same, we further enforced our criteria to exclude services and added new segments to reflect solutions that support the teaching and learning ecosystem.
Market Pressures Driving Change
Ongoing analysis of the Landscape has concluded that four market pressures are impacting segments of the higher education technology market. They include:

Challenges in Defining Student Success - Today, there is a lack of clarity around the term "student success." Is it career attainment? Persistence to graduation? Student achievement? Or something else? Likewise, a growing number of technology solutions claim to support different types of student success, which increases the difficulty of institutions trying to determine which meaning of student success is a priority and align that meaning to the right technology segment.
Increasing Focus on the Learning Ecosystem - Ongoing Eduventures technology research highlights a change in how institutions consider technology selection. It's shifting from solely focusing on a solution's functionality to balancing these considerations with a solution's fit within an ecosystem. This ecosystem view plays out in terms of the arrangement of products and guiding principles underlying teaching and learning ecosystems. Within the market segments that support teaching and learning, there is an increased expectation that they fit within and support this ecosystem.
Aiming for Transformation - Today, institutions are less focused on the role technology plays in supporting essential operations, such as maintaining student records, and more about the role it should play in helping an institution transform itself to deliver value to its stakeholders. Many institutions ask how solutions in specific segments help them go beyond supporting functions, such as managing grades and courses to empowering them to leverage data for performance improvement.
The Rise of the Engagement Layer - Student engagement often refers to how institutions exchange information with students through texts, emails, or social media posts. Increasingly, institutions look to supplement this type of communication with a deeper form of engagement—one that aims to deliver a better student experience, an increased student sense of belonging, and better student achievement.
According to James Wiley, Eduventures Principal Analyst, ACT | NRCCUA, "Most attempts to provide a deeper understanding of market pressures rely on an analysis of trends of implemented solutions over time or the competitive environment of vendors within a market segment, such as learning management systems. Our research has shown that relying solely on these approaches can obfuscate the overarching pressures that make segments poised for growth (positively affected) and under pressure (negatively impacted)."
To download the Eduventures 2019 Higher Education Technology Landscape, visit: https://encoura.org/Tech-Landscape-2019
About ACT | NRCCUA
Now part of ACT, The National Research Center for College and University Admissions™ is an educational data science and research organization serving over 1,900 member institutions comprised of public and private colleges and universities across the nation. Since 1972, NRCCUA has been a leading provider of data, technology, and programs serving students, high school educators, colleges and universities from its offices in Lee's Summit, MO, Boston, MA, New York, NY, and Austin, TX. These solutions represent the link between students making important life decisions and those providing the resources and information they need to succeed in their post-secondary educations and careers. With the launch of Encoura™ Data Lab, the company now combines data science, advanced analytics, Eduventures research, predictive modeling and omnichannel enrollment services in one platform to enable institutions to make real-time strategic and operational decisions to meet their unique enrollment goals and create the highest probability of student success. For more information, visit https://encoura.org