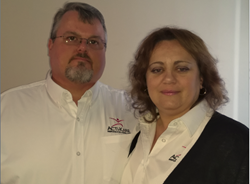 "We want to be the extended family when the family isn't available, needs help, or just needs a break. Caring for a loved one is a huge job – we're here to help."
BEEBE, Ark. (PRWEB) November 14, 2018
Acti-Kare of Beebe, AR, proudly serving families in communities across Arkansas including Heber Springs, Searcy, Cabot, Jacksonville, Austin, Ward and Romance, is celebrating its official grand opening with a ribbon cutting ceremony at the Beebe Chamber of Commerce on November 15, 2018. Local families are encouraged to like and follow the Acti-Kare Facebook page to participate in all of its grand opening special offers and promotions or call (501) 424-0057.
Acti-Kare of Beebe offers in-home senior care that includes Alzheimer's and companion care. In addition, Acti-Kare of Beebe has services and programs to support people of all ages and backgrounds, from in-home infant care to Mommy home care.
Acti-Kare of Beebe is locally owned and operated by Gregory and Natalia Fitch. Together they have over 40 years combined management and business experience in the healthcare, IT, and education fields. They bring this experience to bear in their Acti-Kare Franchise. They are building a team of professional caregivers who enjoy helping seniors retain their independence in their own homes.
Acti-Kare caretakers are all highly qualified, professional, and licensed care specialists that are passionate about home health care. Our carefully selected and qualified caregivers deliver compassionate senior care with in home help to anyone who needs at home care: seniors, new and expecting moms, disabled individuals, memory care patients, recovering patients, infants, children and even pets.
Greg and Natalia have both cared for aging parents, and understand the strains placed on family members when caring for loved ones. They are building a team of professional caregivers who share their passion for senior care and helping them remain independent and in their own homes. The Fitch's are particularly excited to bring Acti-Kare's Acti-Vate program to familes of Beebe. The Acti-Vate is an innovative wellness program that stimulates the mind, body, and spirit to encourage a full and healthy life.
Acti-Kare is a nationwide chain of living assistance service providers with a sterling reputation for family and senior care. Each Acti-Kare caregiver is screened, bonded and insured for family and senior care services, ensuring high-quality and professional service for your family.