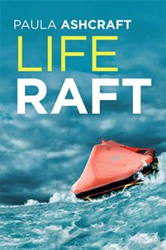 SALT LAKE CITY (PRWEB) October 29, 2019
Debuting author Paula Ashcraft marks her entry in the literary limelight with the release of "Life Raft" (published by Xlibris), a novel that follows the journey of a Cuban inner city youth whose life in the American society is filled with struggles, challenges and danger.
The Florida Straits have claimed many treasures over the centuries. Even today, unusual finds can be made. This book is a story of lost treasures — both personal and monetary. It follows Julio Torres, a young Cuban American who got mixed up in an organized crime and was tricked into becoming an informant for the FBI. After being found out by his boss, Julio is put on a yacht with a million dollars heading to Saint Maarten. Sierra Cortez, a Cuban FBI agent, followed the money to Florida only to find two teenage boys, Paul & JJ Choates, spending it. Julio has gone missing. His boss is trailing not far behind. Time is running out and lives are at stake. Can Agent Cortez figure it all out before it is too late?
Filled with action and intrigue, "Life Raft" depicts the lives of immigrants living in American soil. The book highlights several Cuban characters whose heritage is a strong part of their personality. It will also resonate to readers who are struggling to find their place in a complicated world.
"I want people to feel for my characters and see a part of themselves in their struggles," says Ashcraft. "Choices and circumstances, whether ours or those around us, can have unforeseen consequences. How we deal with those consequences is what shapes our character and frames our lives. Each of my characters in 'Life Raft' have had life-altering situations that have changed the direction of their lives."
To purchase a copy of the book, visit https://www.amazon.com/Life-Raft-Paula-Ashcraft/dp/1796052108.
"Life Raft"
By Paula Ashcraft
Hardcover | 6 x 9in | 284 pages | ISBN 9781796052114
Softcover | 6 x 9in | 284 pages | ISBN 9781796052107
E-Book | 284 pages | ISBN 9781796052091
Available at Amazon and Barnes & Noble
About the Author
A small town girl from Monteview, Idaho, Paula Ashcraft has always wanted to see the world. She married a young navy sailor and shipped out. Their voyage took them from humble beginnings to the shores of Hawaii, Canada and Florida, where she experienced many things and met many people. Her travels across the Caribbean, Europe, Asia and the Middle East have given her a taste of the exotic and spurred her to share her life experiences with the world. While living in the United Arab Emirates, Ashcraft published her finished work "Life Raft," turning her attention to book two, "Life or Death."