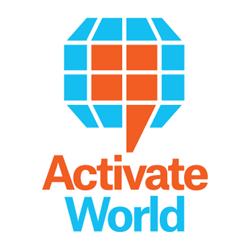 We believe that business leaders have more power to solve societal issues than any elected official.
SANTA FE, N.M. (PRWEB) October 02, 2018
Activate World, a think tank for business leader activism, has announced its first season of podcasts on topics at the intersection of business, politics, and society. Season one focuses on the rise of business leader activism and includes interviews with the following guests:

Sheila Krumholz, Executive Director, Center for Responsive Politics
Adam Winkler, Author of We the Corporations, UCLA law professor
Joel Makower, Chairman and Executive Editor, GreenBiz
Carolyn S. Berkowitz, President and CEO of the Association of Corporate Citizenship Professionals
Jay Coen Gilbert, Co-Founder, Managing Partner, B Lab, Forbes contributor
Activate World Podcasts can be downloaded here.
The Activate World podcast examines CEO and business leader activism to understand the underlying factors, challenges, and successes necessary for improving communities and society. The podcast is designed to be a think tank in action, exploring issues, ideas, and concepts that support and investigate this needed modern leadership model.
Season two focuses on navigating free speech, journalism, and polarization. Topics include the role of journalism in democracy, the causes of polarization, free speech on campus, the business of media, and social media and law.
"We believe that business leaders have more power to solve societal issues than any elected official," said Jon Mertz, CEO, Activate World. "In recent studies, 47 percent of Millennials believe CEOs have a responsibility to speak up on important issues and, across generations, 64 percent want CEOs to take on policy changes without waiting for the government. Our leadership challenge is set, and our time is now to be the example of a greater good for business and society."
About Activate World
Activate World is a think tank for business leader activism – bringing substance, depth of thought, and a non-ideological perspective to teach business activism to leaders. The goal is to deliver insights that can be turned into action. The team provides well-researched analysis of today's issues and insights for effectively integrating activism into an organization's culture according to its mission and values. Activate World's mission is to raise the issues needed to face and design a new leadership architecture of Activators™.