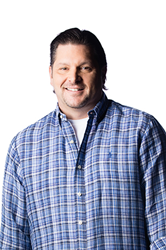 "My blog is about marketing your retail brand to the consumer," explains Roberts. "That means good, proven ideas that help people grow their business and delight the consumer."
ATLANTA (PRWEB) July 21, 2020
In order to keep up with the consumers' mutable shopping habits, publishers and search engines constantly add and subtract ad units and targeting options; as a result, digital marketing is an ever-evolving discipline. Guided by that understanding, Actively Seeking Shoppers delivers expertise for retail brands about growing consumer interest and facilitating purchases, as well as preventing online retailers from making mistakes in their marketing programs.
At the helm of the new online publication is Brad Roberts, VP of Client Services and Strategy at (RMI). A self-described shoppable content addict, Roberts parlays his twin passions for the outdoors and online shopping into compelling, practical information for active brands.
Brad Roberts has spent his career in the retail and e-commerce sectors, bolstering brands like JCPenney, Carhartt, Soccer.com, Sportmart/Sports Authority, L Brands and Macy's.
Ken Robbins, CEO, emphasizes the value of the blog for online retailers, especially given today's dynamic digital marketing landscape. "Actively Seeking Shoppers helps brands stay informed on developments in online marketplaces, allowing their products be more 'shoppable' to the consumer," says Robbins.
About Response Mine Interactive: The team of experts at Response Mine Interactive produces digital marketing strategies relevant to the ever-changing world of healthcare, wellness and fitness. From algorithm updates to technological innovations, we live at the forefront of the evolution of digital strategies, driving lead generation opportunities for our clients across an array of channels — including paid search (SEM), local search, SEO (organic search), social media marketing, display advertising, content marketing, analytics and more.
More information about the RMI team and its programs can be found at http://www.responsemine.com. For more information or media inquiries, contact Scott Lawrence at scott.lawrence@responsemine.com.