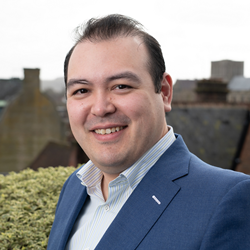 "Christian's steady hand at the operational and financial helm, combined with his experience scaling high-growth companies is exactly what we need at this exciting juncture of our company."
WASHINGTON (PRWEB) June 10, 2020
Active Navigation, the data privacy and governance software provider, has appointed Christian Geyer as its new Chief Financial and Operations Officer. Geyer is based at the company's U.S. headquarters in Washington, D.C. His appointment comes on the heels of Active Navigation's first round of institutional funding, an $11 million Series A led by Mobeus in November 2019. Geyer will strengthen the company's leadership team and oversee its continued growth and geographic expansion.
"I am very pleased to welcome Christian on board," said Peter Baumann, Active Navigation CEO. "Christian's steady hand at the operational and financial helm, combined with his experience scaling high-growth companies is exactly what we need at this exciting juncture of our company."
Geyer said, "I'm delighted to join Active Navigation and to contribute to the next phase of the company's growth. Over the years, they have invested in becoming the premier data mapping solution, a strategic capability that has moved to the top of the list of priorities for organizations as they evaluate their data privacy posture."
"Christian's proven strengths in strategy, management and analytics will provide a timely boost to our efforts during this difficult period," Baumann added. "We will find immediate value with his leadership as our team continues to work non-stop amid the current COVID-19 crisis to ensure there is minimal disruption for our employees, our partners and our customers."
Over a 20-year career that has taken Geyer from supporting the Intelligence Community to SMB Government Integrators and now an acclaimed leader in the data mapping sector, Geyer has built a reputation for success in driving rapid and sustainable growth in various industries.
Prior to joining Active Navigation, Geyer oversaw the financial planning, reporting, contracts, and credit & collections groups at information security consulting organization ZP Group. Before that, Geyer oversaw the FP&A and Business Analytics functions at the Center for Naval Analyses (CNA), where his teams focused on supporting strategic decision making, growth initiatives, and business strategy. Before joining CNA, Geyer held positions of increasing responsibility at QinetiQ North America and the Office of Naval Research.
Geyer holds a dual B.S. in Business Administration and Accounting as well as a Master's in Business Administration – both from Liberty University.
About Active Navigation
Active Navigation is a data privacy and governance software company. Its flagship product, Discovery Center, enables enterprises and government entities to map, clean, classify, quarantine and delete redundant, obsolete and trivial data. Hundreds of companies and government agencies trust Active Navigation to help them control sensitive data and support compliance with various data privacy regulations such as CCPA and GDPR. Active Navigation Inc. is headquartered in the DC metro area and has offices in Europe and Australia. For more information, please visit ActiveNavigation.com or follow the company on Twitter and LinkedIn.