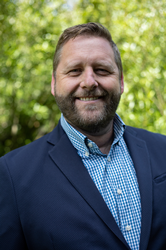 "Jesse is joining us at the perfect time to head our federal sales team, given our recent funding round and aggressive growth plans," said Dean Gonsowski, CRO.
WASHINGTON (PRWEB) December 17, 2019
Fresh off the heels of its $11 Million Series A venture funding, Active Navigation, the data privacy and governance software provider, today announced the appointment of technology executive Jesse Rauch as Vice President, US Federal. Rauch will be responsible for growing the federal sales team, developing new business opportunities and creating tailored solutions to meet the unique needs of federal agencies.
Prior to joining Active Navigation, Jesse led worldwide client solutions at artificial intelligence startup Luminoso Technologies. He also worked in a leadership capacity at Hewlett-Packard and EMC.
"I'm excited to join the team during this critical period of high growth," said Jesse Rauch, VP, US Federal. "The US Government has implemented several directives to modernize federal IT, and I'm committed to helping agencies solve their complex information governance challenges such as PII management and M-19-21 compliance. Active Navigation already works with an impressive list of agencies and I'm looking forward to helping the company continue to grow and innovate."
"Jesse has a proven track record of maximizing the growth trajectory of high-performing sales teams," said Dean Gonsowski, Chief Revenue Officer. "Jesse is joining us at the perfect time to head our federal sales team, given our recent funding round and aggressive growth plans. Jesse's strong sales leadership and his background in enterprise software will help accelerate our adoption in the Federal Government. We're thrilled to have him onboard."
2019 has been a year of strong growth for Active Navigation. Following an $11 million Series A funding, led by Mobeus, the company doubled its global workplace. Rauch's appointment is the latest in a series of multiple key hires. In 2020, Active Navigation will continue to expand internationally, open offices in New York and Los Angeles and launch a new privacy-orientated SaaS product. To learn more about open positions, please visit Active Navigation's career page or email your resume to newjobs@activenavigation.com
About Active Navigation
Active Navigation is a data privacy and governance software company. Its product suite enables enterprises and government entities to map, clean, classify, quarantine and delete redundant, obsolete and trivial data. Hundreds of companies and government agencies trust Active Navigation to help them control sensitive data and support compliance with various data privacy regulations such as CCPA and GDPR. Active Navigation Inc. is headquartered in the D.C. Metro area and has offices in Europe and Australia. For more information, please visit ActiveNavigation.com or follow the company on Twitter and LinkedIn.