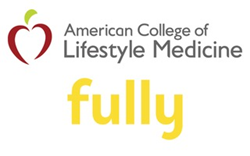 We believe when you have the freedom to move, you feel more engaged, more energized and you experience less pain.
ST. LOUIS (PRWEB) July 17, 2018
The American College of Lifestyle Medicine (ACLM) has announced the addition of active workspace furniture leader Fully to its Lifestyle Medicine Corporate Roundtable, a group of individuals and organizations whose collective vision is sustainable human health, a sustainable health care system and a sustainable world.
Fully's journey began in 2006, when founder David Kahl began selling an iconic Norwegian chair that transformed how his body felt at work -- the HAG Capisco. From there, he sought to offer people more and more products to help them find their body's natural posture, rhythm and flow so they can feel more alive and engaged in their work. Kahl began creating his own active-workspace products in 2013, starting with the Jarvis Standing Desk, and now offers a variety of office chairs, anti-fatigue mats, treadmill desks and more.
Fully sells all its products online at http://www.fully.com, and has showrooms in Portland and San Francisco.
"At Fully, we're helping people be their best selves by giving them desks, chairs and accessories that keep them moving through their day," said David Kahl, Fully Founder and CEO. "We believe when you have the freedom to move, you feel more engaged, more energized and you experience less pain. We are proud to be a member of the American College of Lifestyle Medicine's Corporate Roundtable, working with amazing physicians and thought leaders to bring the movement part of Lifestyle Medicine to the forefront."
"Fully understands that in today's business environment, people are sitting still more and more, which creates a significant negative effect on health," said ACLM President George Guthrie, MD, MPH, FACLM. "More than just a furniture company focused on comfort, Fully provides workspace products that can reasonably be assumed to help prevent sedentary-related disease. ACLM is pleased to have Fully bring its unique perspective on Lifestyle Medicine to our Corporate Roundtable."
The Corporate Roundtable of the American College of Lifestyle Medicine convenes healthcare and lifestyle thought leaders, with a keen focus on the power of Lifestyle Medicine to transform health and healthcare. Roundtable members explore effective Lifestyle Medicine clinical applications, strategies for accelerating reimbursement and adoption and analysis of potential business-related opportunities. The Roundtable launched in 2015 and has grown to include more than 30 active member organizations.
ABOUT THE AMERICAN COLLEGE OF LIFESTYLE MEDICINE: ACLM is the professional medical association for those dedicated to the advancement and clinical practice of Lifestyle Medicine as the foundation of a transformed and sustainable health care system. Lifestyle Medicine prevents, treats and sometimes reverses chronic diseases. It focuses on the combined use of evidence-based lifestyle therapeutic approaches, such as a predominantly whole food, plant-based diet, regular physical activity, adequate sleep, stress management, avoidance of risky substance use and other non-drug modalities.
More than a professional association, ACLM is a galvanizing force for change. ACLM addresses the need for quality education and certification, supporting its members in their individual practices and in their collective desire to domestically and globally promote Lifestyle Medicine as the first treatment option, as opposed to a first option of treating symptoms and consequences with expensive, ever increasing quantities of pills and procedures. ACLM members are united in their desire to identify and eradicate the root cause of disease. Join today at http://www.LifestyleMedicine.org.